Regular price
$1,199.99 USD
Regular price
Sale price
$1,199.99 USD
Unit price
per
Sale
Sold out
Tone Shapers puts together pro-level hotrodded guitars that sell for reasonable prices. These guitars showcase products that we sell.
Video
Click here to hear this guitar put through its paces.
Body
Genuine Fender alder replacement body, made in Mexico at Fender's Ensenada plant. 3-tone sunburst.
Neck
Genuine Fender roasted maple neck. 9.5" radius allows for low action without fretting out during bends. We've completed a fret level/crown/polish, which ensures that the frets are level for lowest action with minimal buzz. The guitar plays brilliantly, with best-case action.
Electronics
This guitar has been wired from scratch with our SSS1 blender wiring scheme. This kit uses only the finest components from CTS, CRL, and Switchcraft, and we've wired it with the gorgeous attention to detail that only we can muster. Our wiring is like art, if we may be so bold.
Blender wiring adds tonal flexibility to the guitar without adding complexity. While Telecasters allow players to select the neck and bridge pickups together, Stratocasters don't, nor is there a provision on a Strat to have all three pickups on. Many players over the years have added switches to Strats to allow these combinations, and the switch is usually a push/pull pot or a mini-toggle switch.
Rather then use a switch, blender wiring uses the bottom tone control to function as the switch, but rather than merely switch a pickup on or off, it allows the player to blend a pickup into or out of the mix, like a volume control would do. So you can have the neck + bridge pickups on with subtle shading options you wouldn't otherwise be able to get, and you can also have all three pickups on. Lots of tonal shading, minimal fuss, looks stock.
Pickups
This guitar has True Grit pickups from Bare Knuckle Pickups. Made in the UK, these have slightly more bite than a vintage-spec pickup, for a little heavier thing. Let's call it Texas Blues. RWRP middle ensures that the 2 & 4 positions are hum-canceling.
Hardware & Misc
We know the best hardware maker out there, his name is Bill Callaham. This guitar has a full Callaham tremolo unit, for the best action and tone available in a 6-screw tremolo. This is the finest bridge of its type that we're aware of. Made with the finest materials, it offers fit and finish above and beyond other Strat tremolos, and with a unique arm design that eliminates play in the arm and makes it easy to use the tremolo smoothly.
The unit on this guitar is Callaham's Vintage Narrow design, which mounts using the vintage screw spacing that Fender used beginning in 1954, but it has a slightly narrower string spacing that is identical to that used on the American Standard guitars beginning in the early 1980s (2-1/16" from the center of the low E to the center of the high E). This is the spacing used on current Fender Strat production with the exception of Vintage Reissue guitars.
We also used a Callaham neck plate, which is thicker than the Fender plates, and is stainless steel rather than chrome-plated brass.
The rest of the hardware and plastic is from Fender. We used a Fender jackplate, strap buttons, tortoise pickguard, and their aged white accessory kit for the knobs, pickup covers, and the switch and trem arm tips.
Tuners
And we went with Fender locking tuners. Faster to string up than traditional tuners, just stick the string through the hole, tighten the knurled screw on the back, then half a rotation of the shaft and you're up to pitch.
But this is a tremolo guitar, and if you're one of those players who uses the trem a lot, you'll appreciate the extra tuning stability that these offer. It's all good.
Case
We know you want a case, but Fender provides none. We're partial to gig bags - good ones are well made and offer plenty of protection, and they're just so much lighter and easier to carry around than hard cases that we strongly prefer them. Fender has several lines of gig bags ranging from the real bottom-feeder stuff to seriously deluxe. We're including one that's mid-line - the FE620 - with this guitar. It's a nice bag: Good protection, doesn't break the bank.
Finally...
This guitar has been gone over from one end to the other by us, and is dialed. This guitar sounds and plays as well as anything, as well as any guitar from any company, including PRS, Anderson, Suhr, etc. IT IS READY TO GIG.
Guitar Weight: 8.25 Pounds
Scale Length: 25.5"
Fretboard Radius: 9.5"
All components used in this guitar - including the neck/body - are new. All parts carry the warranty from their original manufacturer.
Share
View full details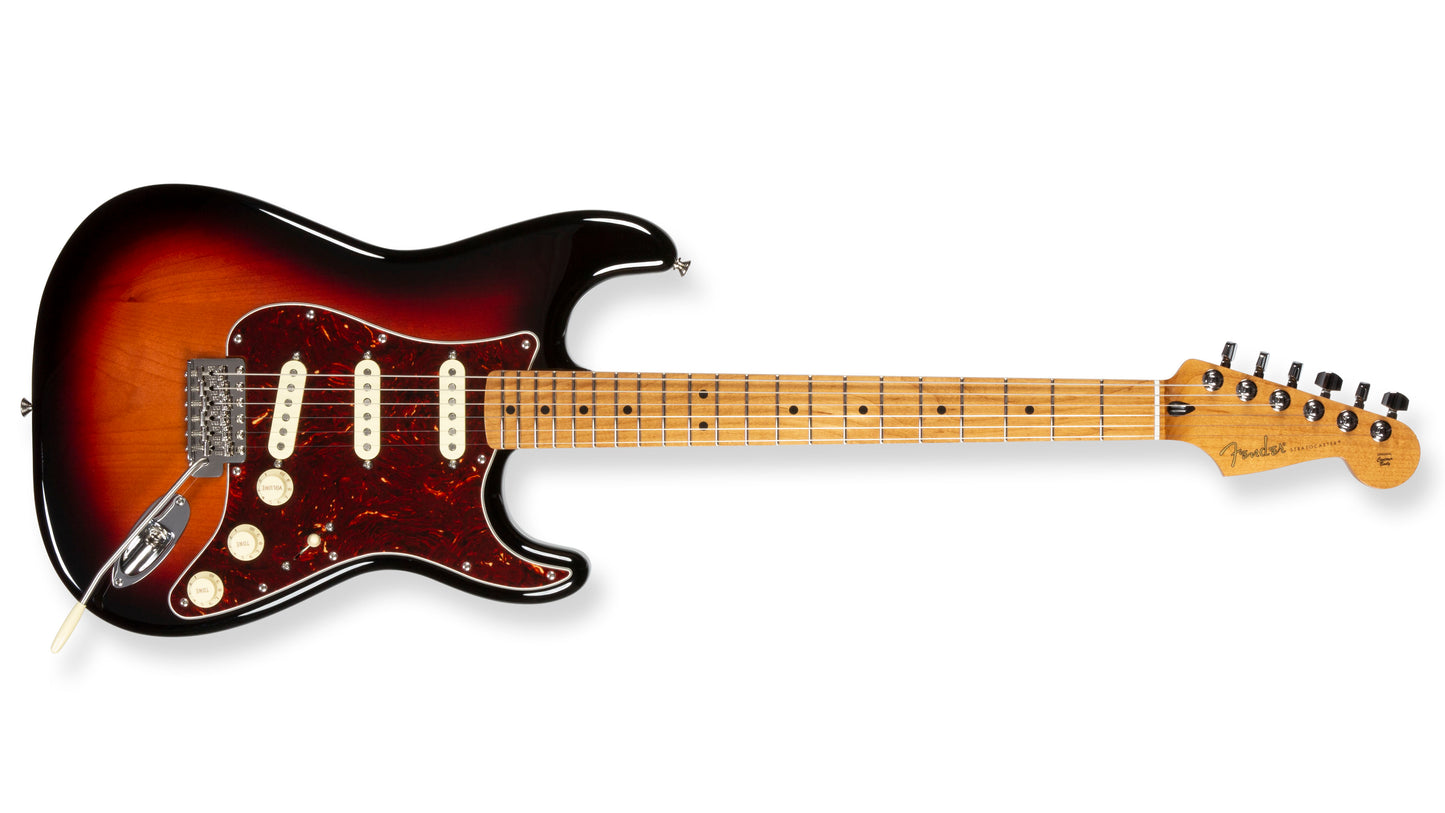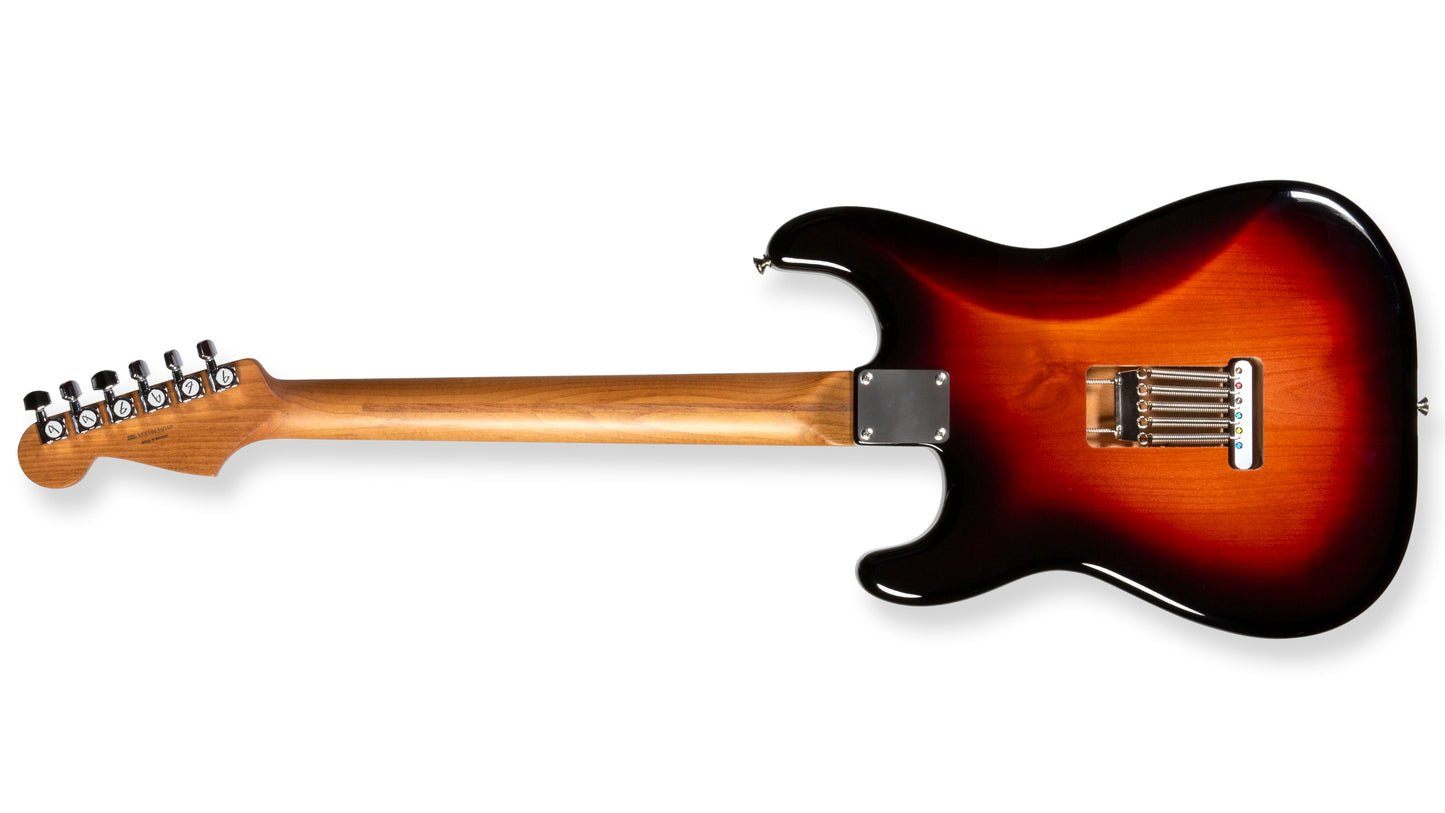 Outstanding setup. Fantastic customer service. Well done.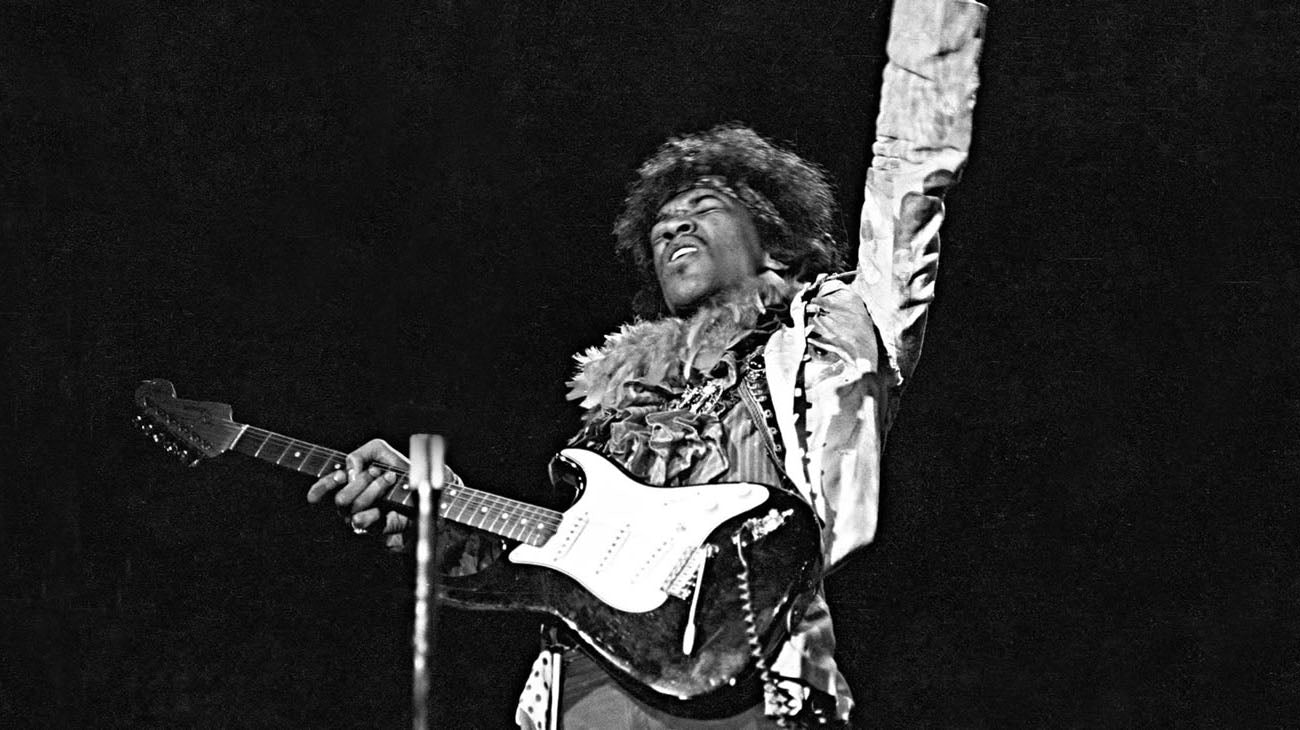 maestro
these are the players who inspire us