Regular price
$349.99 USD
Regular price
Sale price
$349.99 USD
Unit price
per
Sale
Sold out
Bigsby B7 vibrato with a full complement of Callaham upgrade parts installed, as detailed below. Designed for use on archtop electric guitars, such as Les Paul Standard, Deluxe, and Custom, and ES-335.

Bigsby vibratos have a huge following, but they have some problems that were engineered-in during the '40s and '50s that are still present in the current products. Callaham Guitars makes upgrade parts that address these issues handily, and we sell these parts on our site. But some people don't want to modify a vibrato that they already own, they just want to buy one with all the parts pre-installed, ready to screw onto the guitar. We gotcha covered!

We buy the Bigsby units from Fender, which is the current owner of the Bigsby brand. We buy the upgrade parts from Callaham. Then we disassemble and re-assemble the unit with the Callaham parts installed, and we include the original Bigsby parts with the unit.

Callaham Stainless Steel String Shaft
The shaft on the Bigsby vibratos have roll pins pressed into them - one for each string - and you have to put the ball end of the string over this pin when you restring the guitar. It's a total pain - you need three hands, and everyone complains about it. Callaham's shaft has drilled and counterbored holes, so installing strings is as simple as stringing a Tele or similar guitar. Callaham's shaft takes all the hassle out of restringing your Bigsby-equipped guitar!

Callaham Stainless Steel Front Roller
Another issue that Bigsby vibratos have is that there's no mechanism to establish string spacing. The strings are routed underneath the front roller where they're free to slide to the left or right. Getting them spaced equally involves moving them into place with your fingers, and it's a rough approximation of "even".

Callaham's front roller has grooves machined into it for the strings to rest in, so they'll truly be evenly spaced. Simple, effective.

And that's not all. The stock Bigsby roller is a hollow tube, with a bronze bushing in either end that rides on an axle. But the Callaham roller is a solid piece of machined stainless steel with a stainless axle. The fit is precise, and the combination provides a substantial increase in mass that will widen the frequency response and add sustain. It's a great upgrade!

Callaham 360˚Arm Bracket
The stock Bigsby arm has a lock that prevents it from rotating all the way around in a complete circle. Paul Bigsby decided in about 1946 where every guitar player should have their vibrato arm placed, and every Bigsby player since has been locked into his way of thinking. But no more. Callaham's arm bracket allows for a full 360˚ of rotation, so now you can set up the vibrato arm to work just like you want it to, including allowing you to hold it in your hand while you pick or strum if that's what works for you. Couple that with Bigsby's inherent design that allows you to adjust how much force is required to rotate the arm, and you can really dial the vibrato in to your liking.
Model Name: B7
Series: Original Kalamazoo Line
Manufacturing Method: Cast
Manufacturing Material: Aluminum
Overall Length: 8-3/4" / 222.3 mm
Overall Width: 3-5/8" / 92.1 mm
Share
View full details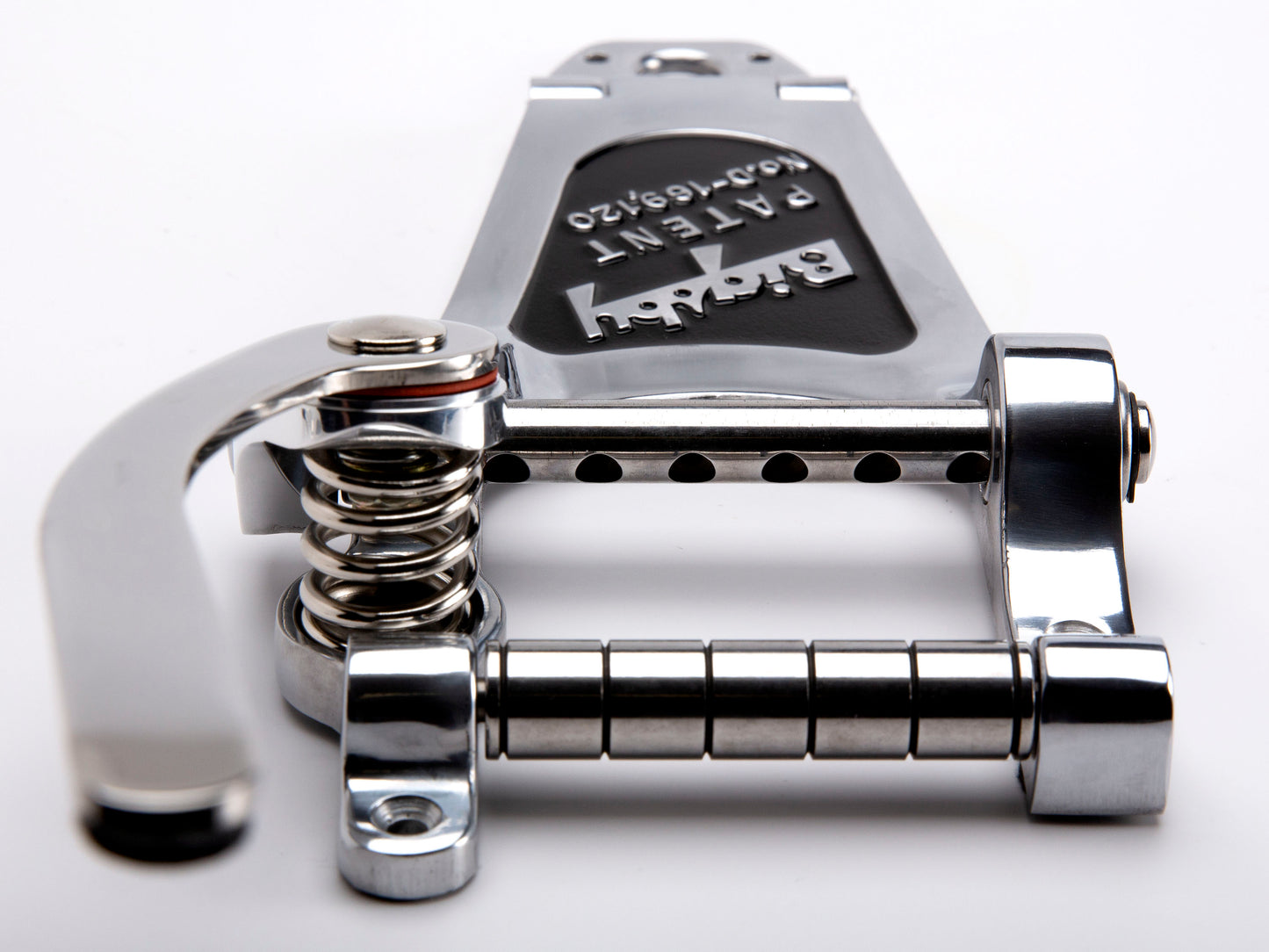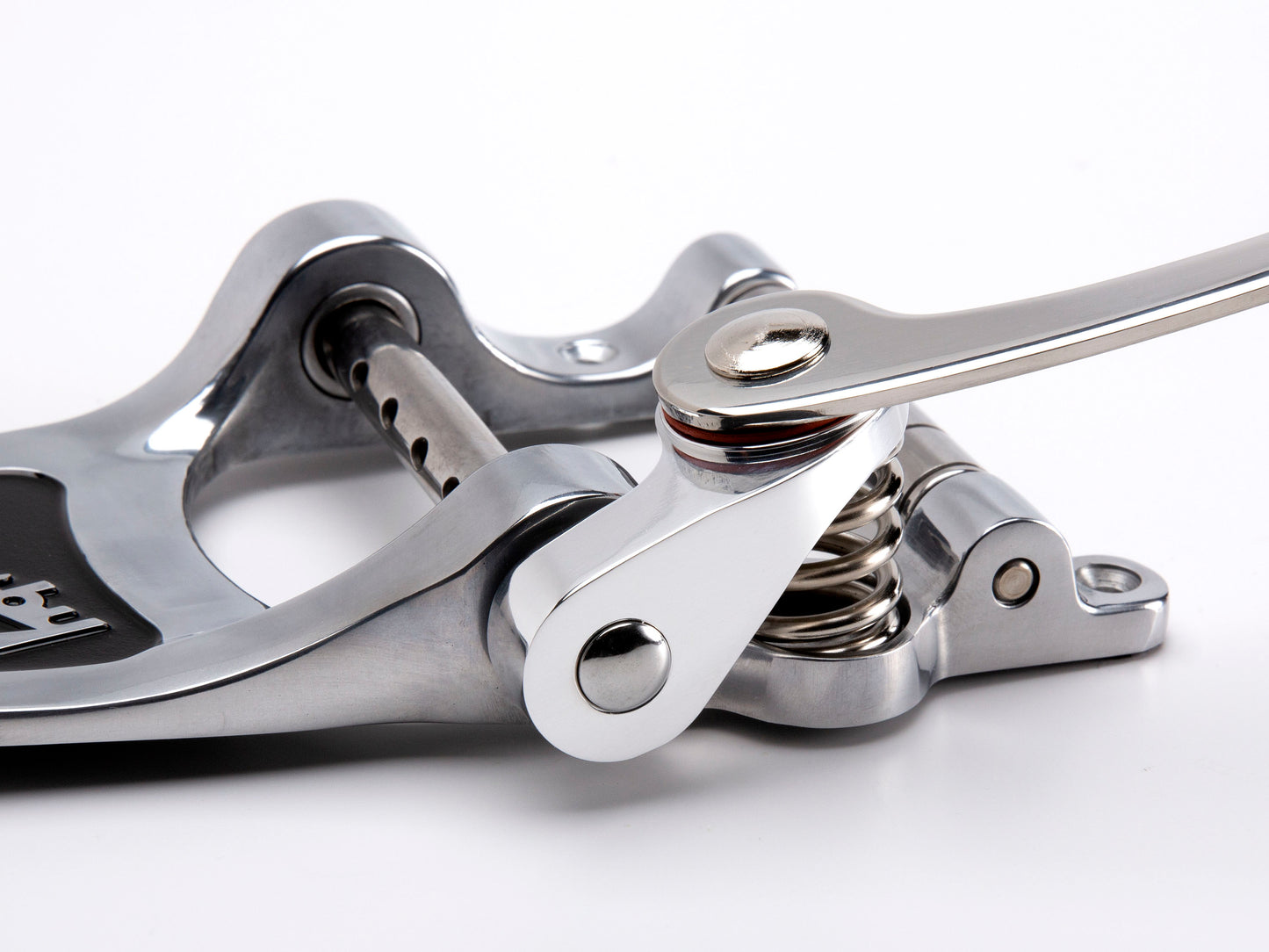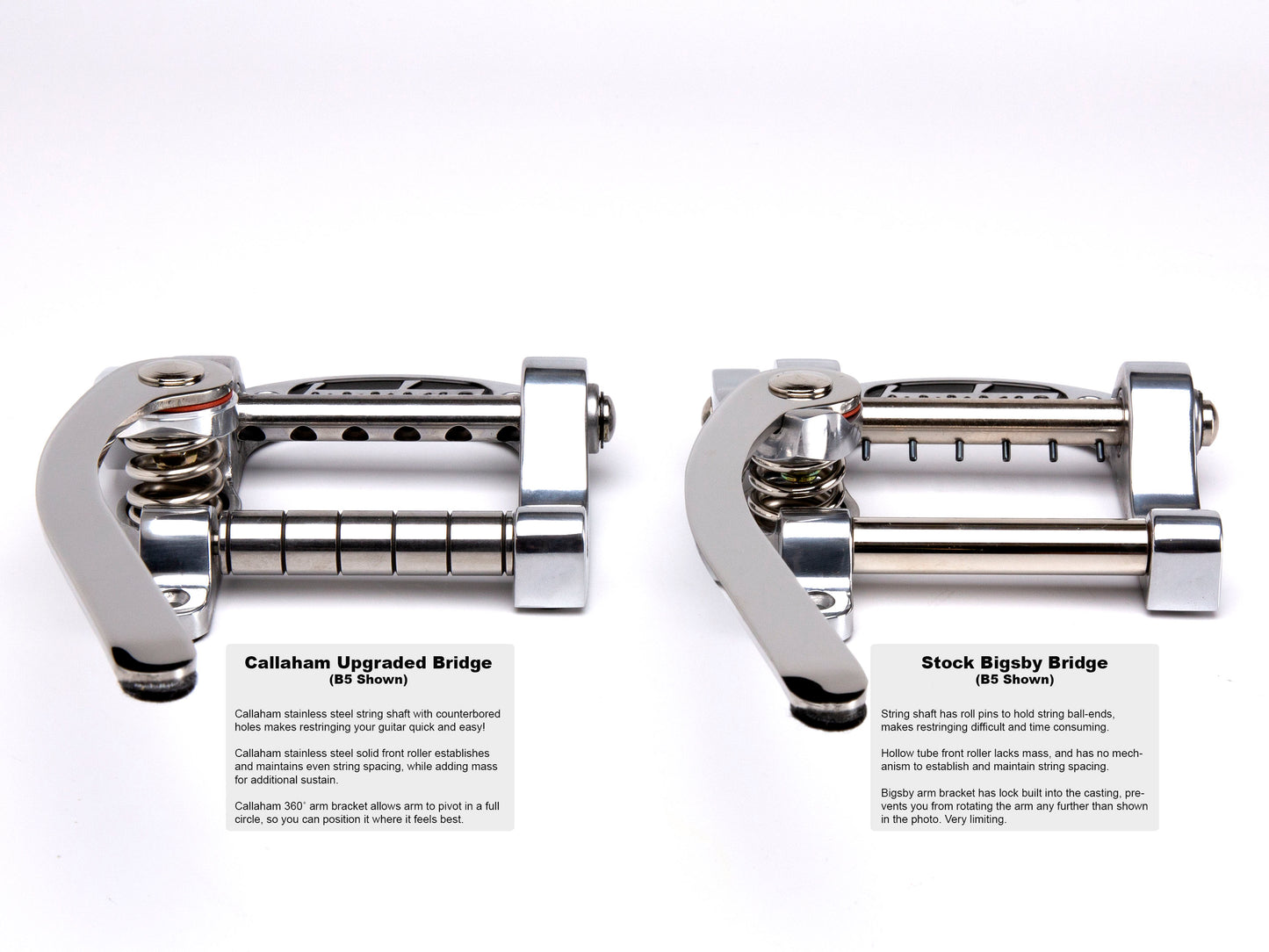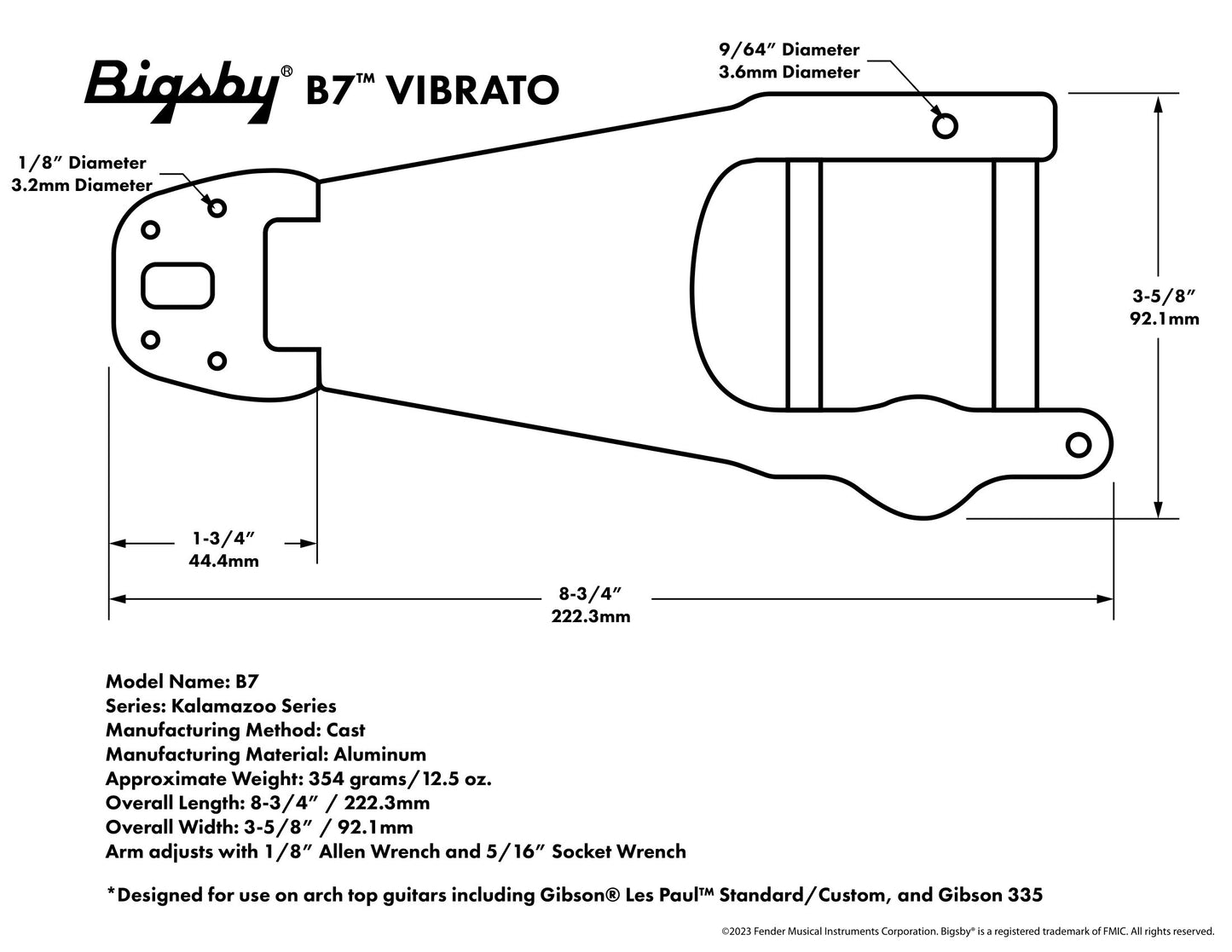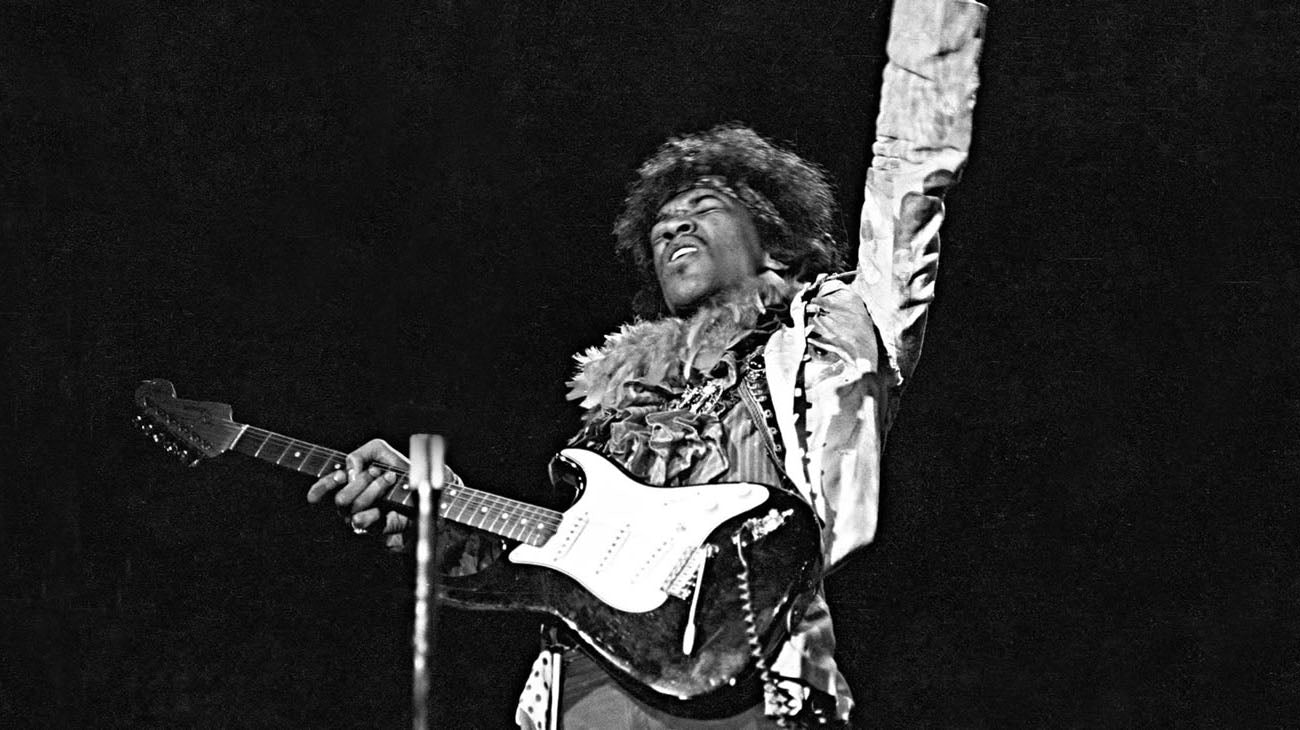 maestro
these are the players who inspire us