Regular price
$3,699.99 USD
Regular price
Sale price
$3,699.99 USD
Unit price
per
Sale
Sold out
Tone Shapers puts together pro-level hotrodded guitars that sell for reasonable prices. These guitars showcase products that we sell.
Donor Guitar
This guitar is a 2019 Les Paul Standard, made in USA.

Setup
We adjust the nut slots, adjust the truss rod, and then adjust the action for best playability. Most people like lower action rather than higher action, so this is how we adjust the guitar.
Once the action has been adjusted, we adjust the intonation, because you want the guitar to play in tune everywhere on the neck. Intonation is also called compensation, and what you're compensating for is string height. Unlike a piano, with a guitar you must stretch the string in order to press it against a fret. Stretching the string raises its pitch, and you have to stretch the string further on a guitar with higher action than one with lower action. A properly intonated guitar will play in tune to a degree that will be satisfactory to most players.
Completely Rewired - Push/Pull Tone Pots - Series/Parallel Wiring
Our wiring kits include all the right brands: CTS, Switchcraft, Oak-Grigsby, CRL, Gavitt, Orange Drop. There's a reason these brands are the de facto standards of the American guitar industry: for over 70 years, they've provided solid service in guitars from Fender, Gibson, Hamer, PRS, Anderson, Collings, and on and on. So we use them too. This guitar features a cool wiring option, it uses two push/pull pots to allow you to combine the coils of either humbucker in series or parallel. Series is what you're used to hearing with humbuckers, it provides that warm full sound that we typically equate with humbuckers. Putting the coils in parallel makes the pickup more open and airy sounding, with less output and midrange. Sort of like splitting it, but hum-canceling is retained. In this guitar, pulling the volume pot puts the coils of the neck pickup in parallel, while pulling the tone pot puts the coils of the bridge pickup in parallel.

Pickups
Suhr Thornbucker pickups in both neck and bridge positions, with raw nickel covers.

These were developed in conjunction with guitarist and influencer Pete Thorn, and they're basically Suhr's take on PAFs, but with 4-conductor leads for added wiring flexibility. Suhr states:

"Through our experimentation with all the variables: magnets, wire, covers, and winds, we made countless prototypes and listened. Eventually we hit on the formula that captures all of the essence of the most coveted '50s "patent applied for" style pickups. If you are a player searching for a product that captures all the subtleties, nuances and feel of a great vintage pickup, then Thornbuckers are the perfect pickup for you."

"Adding a cover to a humbucker will always make it sound a little sweeter, knocking off a bit of top end. The raw nickel covers are the most transparent ones we've found. They sound very similar to the uncovered pickup, just a bit sweeter."

Please note that because raw nickel covers are not plated, over time they will develop a natural patina, much faster than a chrome plated cover.

Bridge/Tailpiece - Callaham Billet Steel
Nobody makes a machined steel ABR bridge. It's a complex part with square-cornered recesses where the saddles fit, so it's not an easy part to machine. Hence, all the ABRs out there are cast, and generally they're cast from zinc, or from Zamak, which is a zinc alloy.

But there was one machined ABR. Callaham made it, a machined steel ABR-1 that they made for years. It was beautiful and expensive. But they don't make it any longer, and we're not aware of another machined ABR made anywhere.

But we set aside a few of these bridges when Callaham discontinued production, and that's what's on this guitar. Brand new, never used before, reserved for a special project. And of course we wanted to compliment it with Callaham's machined stopbar tailpiece and locking tailpiece studs. All steel, all nickel plated, all beautifully made.

Gotoh Vintage-Style Tuners
Gotoh is our favorite tuner company. There are other good ones, like Schaller, but we like Gotoh best. They make a wide assortment of tuners, but we were looking specifically for the vintage Gibson style with the keystone buttons, they look the part. Made in Japan.
Wear & Tear
This is a used guitar. We've looked it over pretty carefully and it's super clean, but you might find a tiny dent or ding here or there, so if that kind of thing bothers you then be forewarned.

Case
The guitar ships in a new Gator Lightweight Case, which is sort of a cross between a hard case and a gig bag. It has molded plastic inserts inside, behind the fluffy lining, that hold the guitar securely and support the tilt-back headstock, so it offers a lot more protection for a Les Paul than a typical gigbag, while maintaining the light weight easiness of a gig bag. It's a cool case.

Finally...
This guitar has been gone over from one end to the other by us, and is dialed. This guitar sounds and plays as well as anything, as well as any guitar from any company. IT IS READY TO GIG.
Guitar Weight: 8.10 Pounds
Scale Length: 24.75"
Fretboard Radius: 12"

All components used in this guitar - excluding the neck/body - are new, and we're an authorized seller for all of them except the Gator case, which we purchased retail. All parts carry the warranty from their original manufacturer.
Share
View full details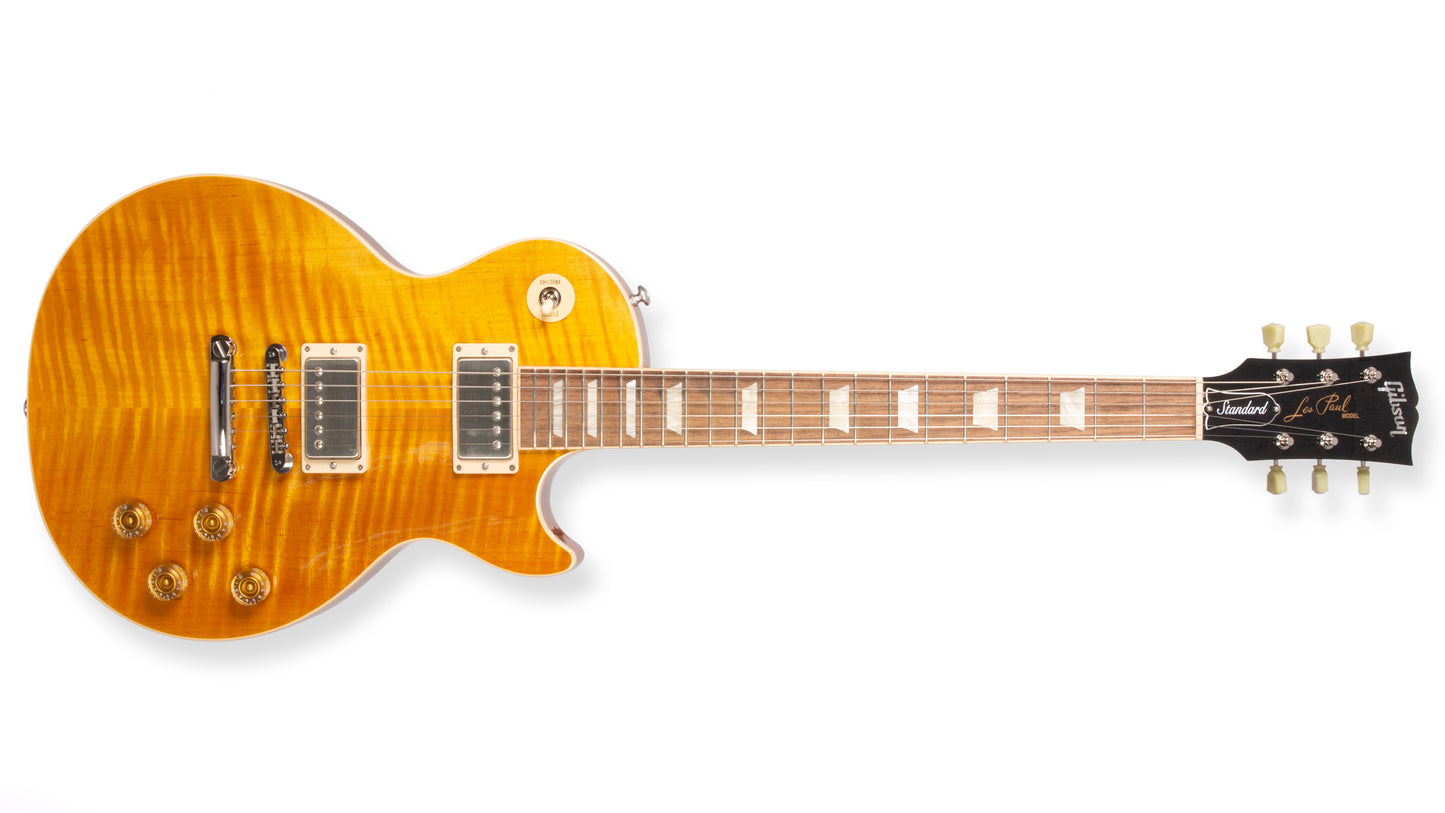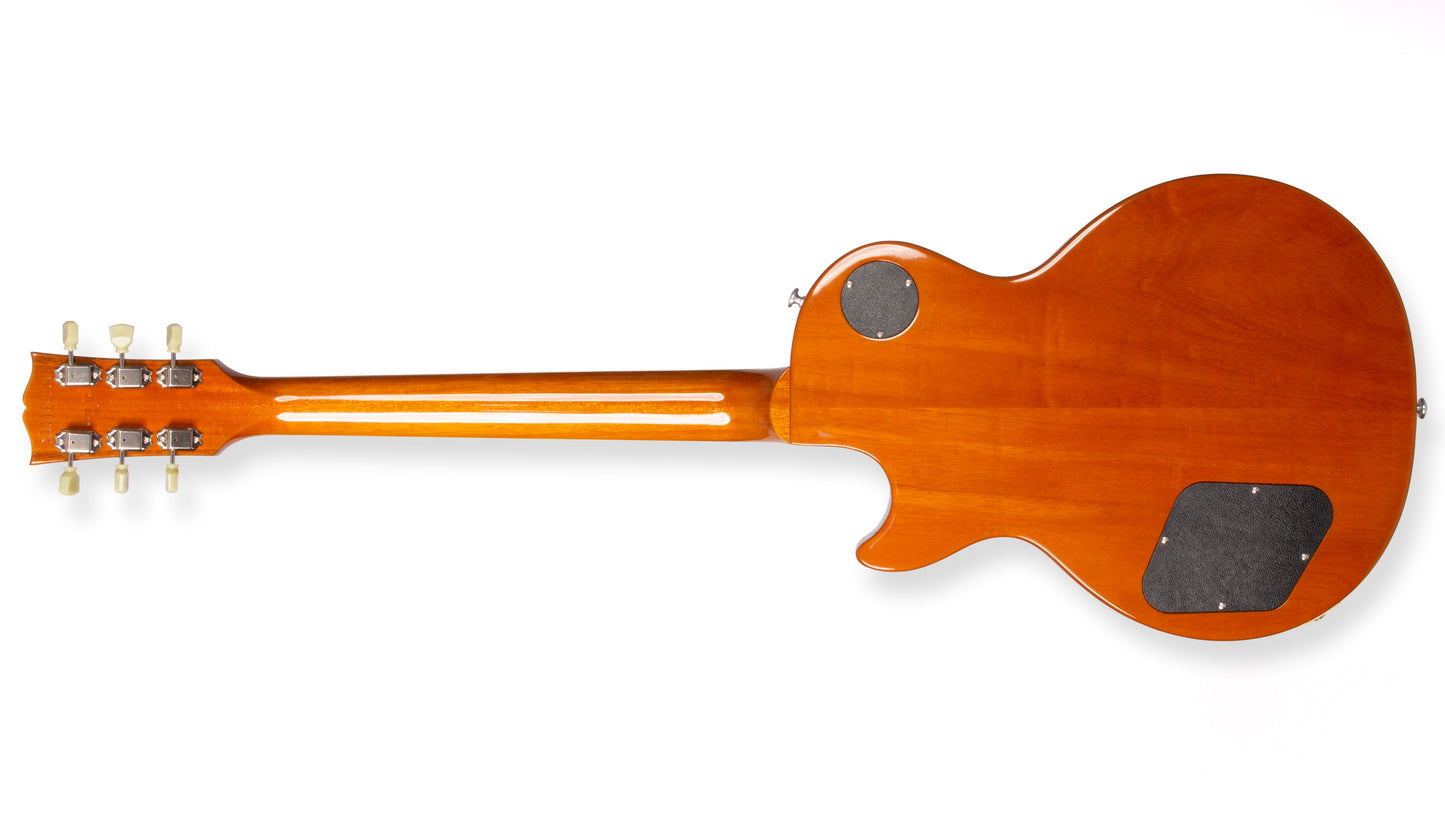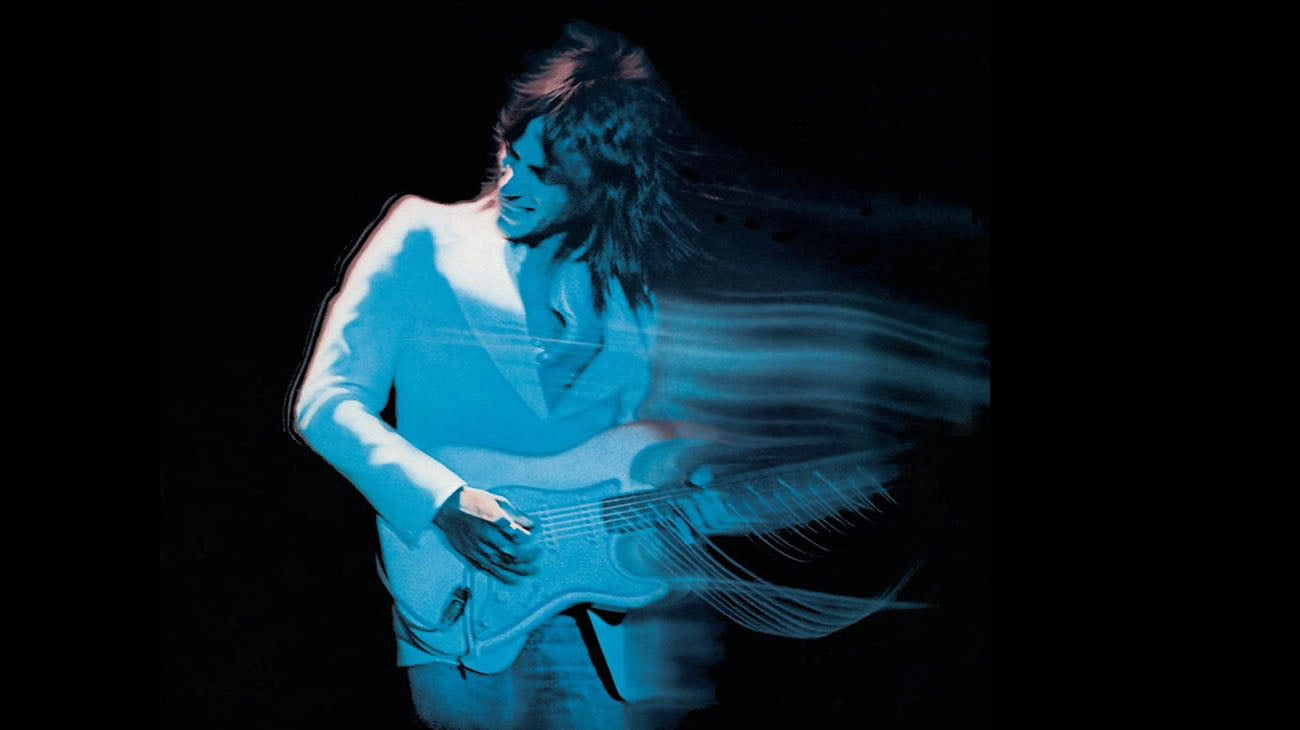 maestro
these are the players who inspire us