Regular price
Sale price
$46.99 USD
Unit price
per
Sale
Sold out
Big Apple Wiring
Fender created the Big Apple Stratocaster in the 1990s in order to marry some of the most popular Strat tones with the humbucker tones of a Gibson. They followed this effort with more two-humbucker Strats - like the Double Fat Strat and the Blacktop Strat - making it clear that this pickup configuration has been met with a warm reception by players everywhere.
The scheme is straightforward: Positions 1/3/5 give you the straight-ahead humbucker tones you'd find in a Gibson, while the 2/4 are the "Fender" positions (single coils). Our experience is that the normal Strat's 2-position (bridge/middle in parallel) and 5-position (neck only) are the two must have pickup options in the view of most players - these are the overwhelming favorites. The Big Apple wiring mimics these two settings in the 2 and 4 positions:
Position 5 - Neck HB
Position 4 - Neck SC
Position 3 - Bridge HB + Neck HB
Position 2 - Bridge SC + Neck SC
Position 1 - Bridge HB
Our HH1 wiring scheme essentially employs the original Big Apple wiring, but with the notable exception that the second position uses one screw coil and one slug coil from the pickups in order to achieve hum-canceling. Like the original, we use a 500k volume pot since this is the value that most humbuckers are voiced with, but we've also added functionality that drops the volume pot's value to 250k in the 2/4 positions, so the Fender positions will sound more convincing.
We've left the tone-control wiring alone, opting to use Fender's original configuration - a tone control for the 1-position (bridge pickup), and the other tone control for the other four switch positions.
This kit
includes everything you need to wire a two-humbucker Stratocaster with Big Apple wiring (refer to the images above for a switching diagram). It includes the finest components, from the same suppliers that the large U.S. guitar companies have used for decades. Please Note: The white plastic piece shown in the image is no longer included. This held the neck pickup's wire centered between the neck and bridge pickup. Everything else in the image is included:
(1) Capacitor, .022µF Orange Drop
(1) Capacitor, .047µF Orange Drop
(1) Jack, Switchcraft 1/4" Mono
(1) Pot, CTS 250k Audio (1/4" Bushing Length)
(2) Pot, CTS 500k Audio (1/4" Bushing Length)
(2) Resistor, 470k
(1) Screw for Shielding Ground Lug
(1) Shielding Ground Lug
(1) Switch, 5-Way, Oak-Grigsby, 4-Pole Superswitch
(1) Treble Bleed Kit for Humbuckers
3' Wire, 22 AWG Cotton Push Back w/ Tinned Overcoat, Black
3' Wire, 22 AWG Cotton Push Back w/ Tinned Overcoat, White
3' Wire, 22 AWG Stranded Silver-Plated Copper, Black PTFE
3' Wire, 22 AWG Stranded Silver-Plated Copper, White PTFE
Professional, Fully-Illustrated Wiring Diagram
Share
View full details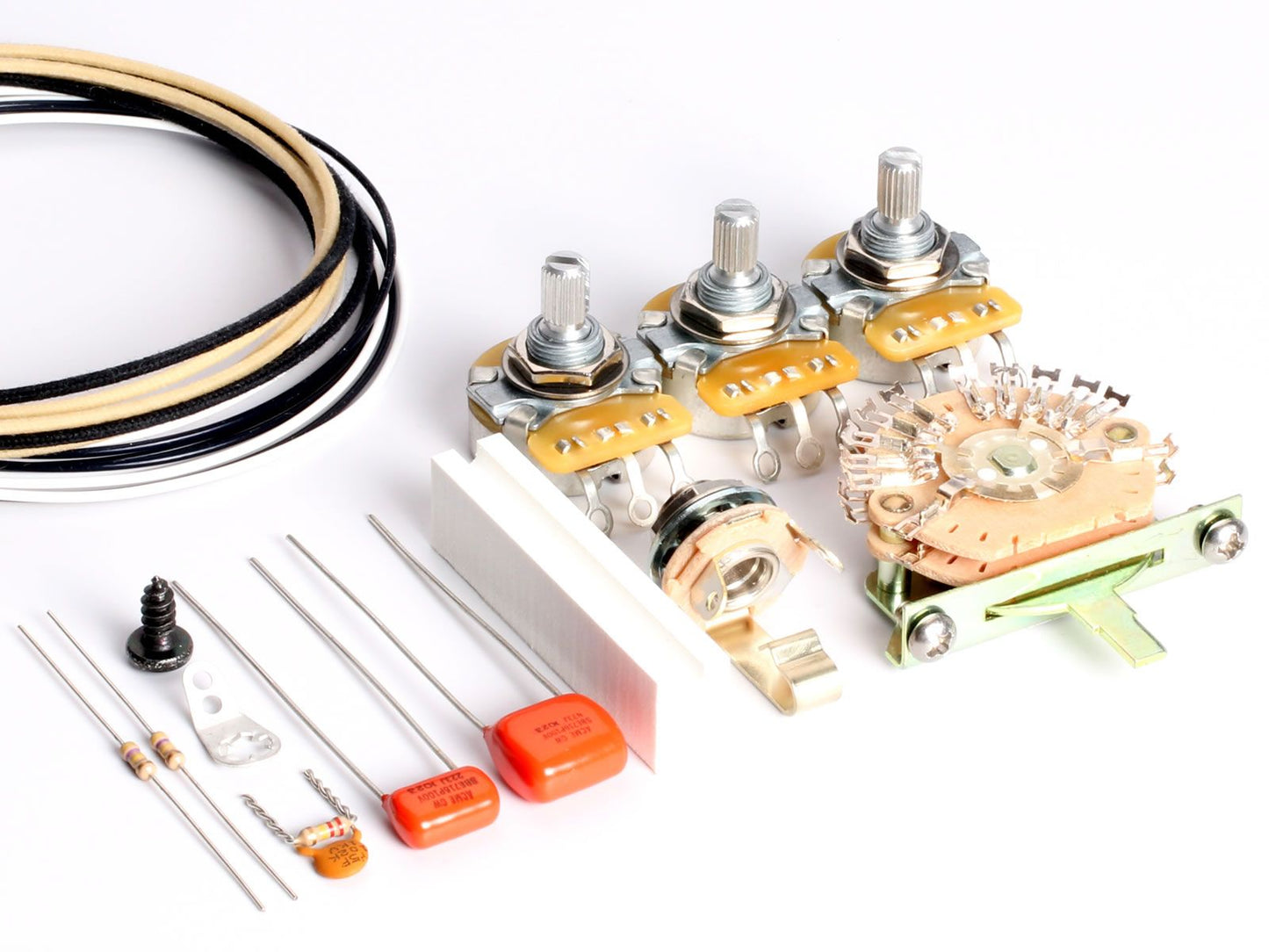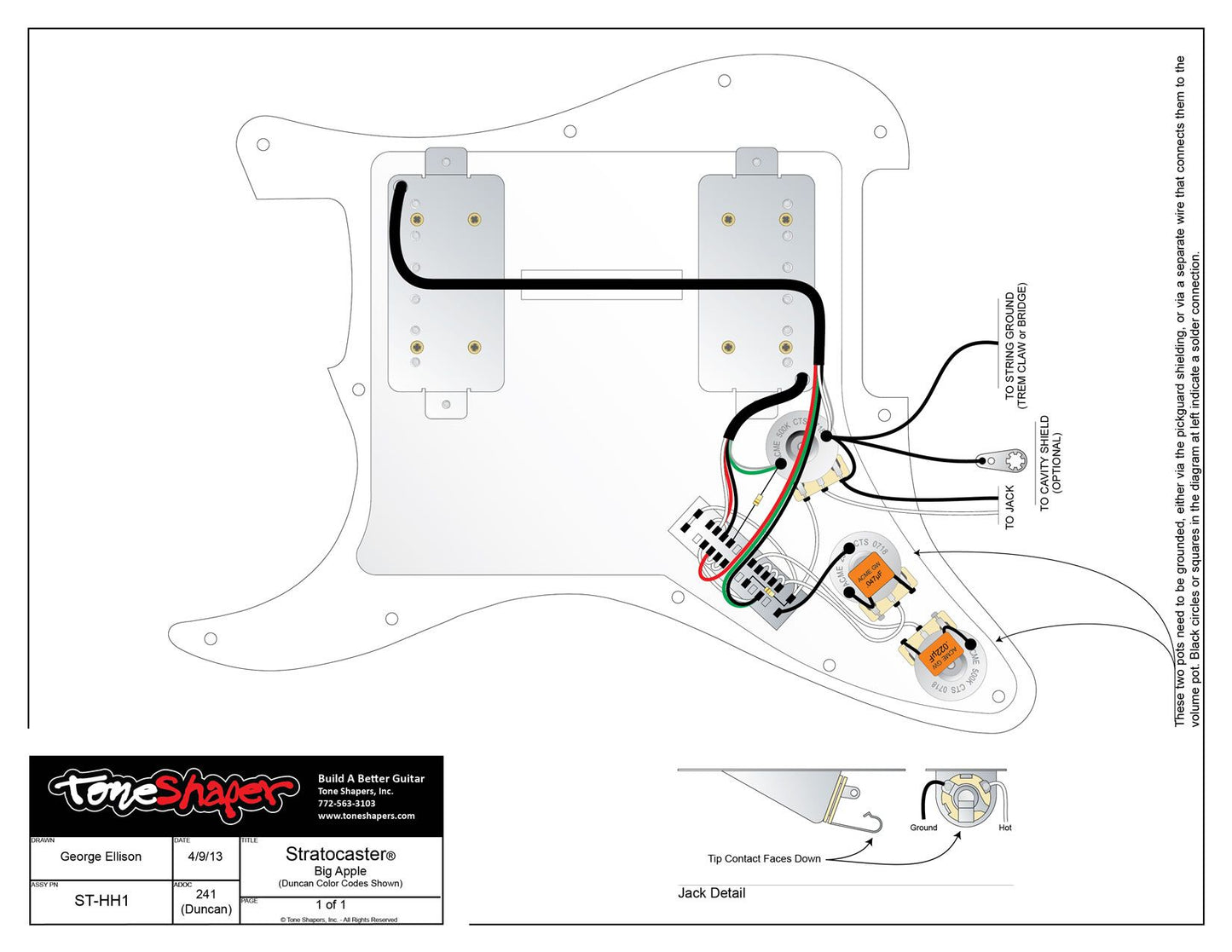 Complicated made easy.
I've had a Big Apple Strat that I've had a grounding issue with for years. I have rewired it twice, still the incessant buzz. Finally decided to start from scratch (except the pickups) and found this kit. Man… I can't say enough good things. My guitar sounds great (and quiet) again and it only took me about an hour from start to finish. The instructions are clear and you get everything you need except the pickups. If you are building a Big Apple or restoring one, I can't recommend this kit enough.
Juicy Sounds
Great kit! I'm a novice with the soldering iron, and the 5 way switch was a little tricky. But once everything got in (and I fixed a short that only happened when the pickguard was screwed in) it sounded beautiful. Being able to get the extra single coil sounds is much more useful than I originally thought. High quality parts; I feel like every nuance of sound is coming out. Thanks toneshapers!
Great Service
Very helpful and quick response for my product selection and quick delivery. Have not been able to install the kit yet but look forward to working with Toneshapers again.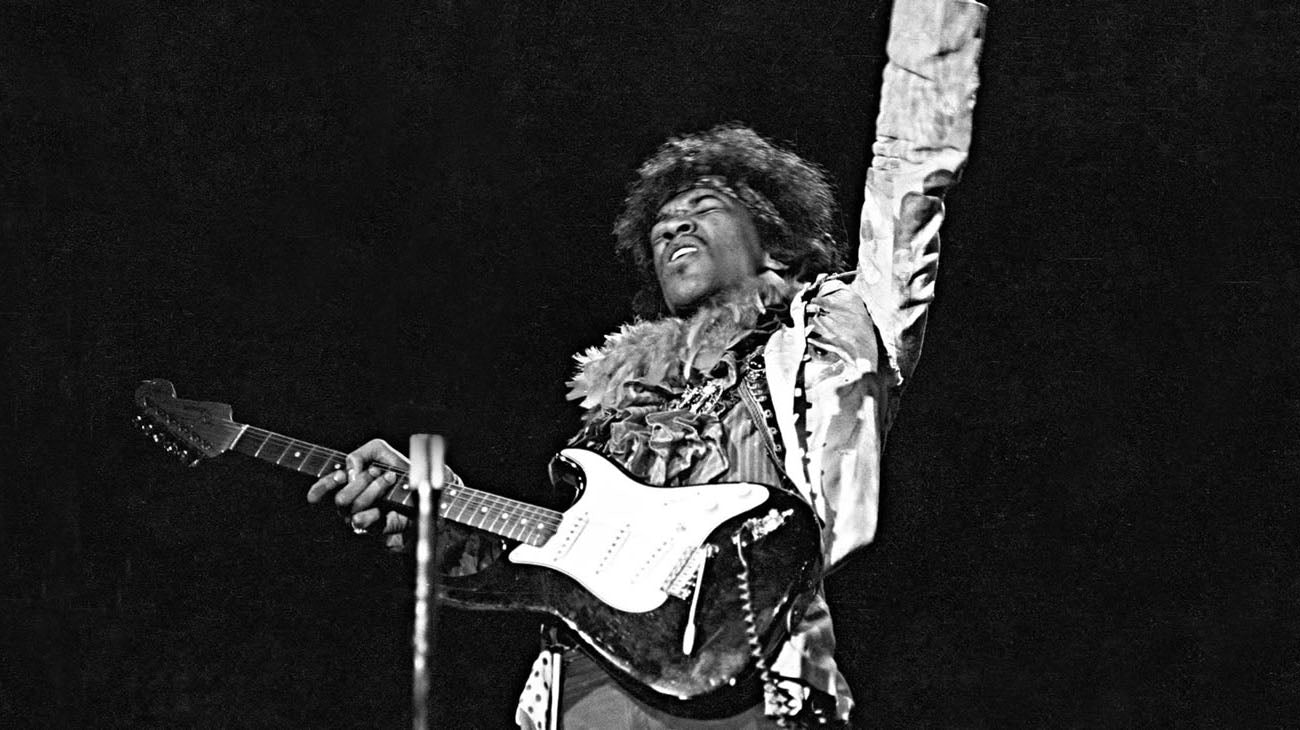 maestro
these are the players who inspire us