Regular price
Sale price
$37.99 USD
Unit price
per
Sale
Sold out
Blender Wiring
Telecasters allow players to select the neck and bridge pickups together, but Stratocasters don't. Many players over the years have added switches to Stratocasters to allow this combination, and the switch is usually a push/pull pot or a mini-toggle switch (manufacturers - including G&L - have offered this as stock wiring on guitars).
Lindy Fralin had a better idea. Rather then use a switch, he uses the bottom tone control to function as the switch. But since this control is a variable resistor, rather than merely switch a pickup on or off, it allows the player to blend a pickup into or out of the mix, like a volume control would do.
The blender control affects either the neck or bridge pickup. In its full-clockwise position the blender control does absolutely nothing, and in fact makes itself disappear from the circuit so as not to load the circuit (think true bypass). In this position, the 5-way switch functions like a normal Strat, with one volume and one tone control. But turn the blender control counter-clockwise in positions 1, 2, 4, or 5, and it adds in the neck or bridge pickup as shown below. The player can get lots of subtle tonal coloration with this control.
Position 5 - Neck (blend control adds bridge)
Position 4 - N+M (blend control adds bridge
Position 3 - blend control inactive
Position 2 - B+M (blend control adds neck
Position 1 - Bridge (blend control adds neck
This kit
includes everything you need to wire a Stratocaster with blender wiring (refer to the images above for a switching diagram). It includes the finest components, from the same suppliers that the large U.S. guitar companies have used for decades:
(1) Capacitor, .047µF Orange Drop
(1) Jack, Switchcraft 1/4" Mono
(2) Pot, CTS 250k Audio (1/4" Bushing Length)
(1) Pot, CTS Blender (1/4" Bushing Length)
(1) Screw for Shielding Ground Lug
(1) Shielding Ground Lug
(1) Switch, 5-Way, CRL
(1) Treble Bleed Kit for Single-Coils
3' Wire, 22 AWG Cotton Push Back w/ Tinned Overcoat, Black
3' Wire, 22 AWG Cotton Push Back w/ Tinned Overcoat, White
3' Wire, 22 AWG Stranded Silver-Plated Copper, Black PTFE
3' Wire, 22 AWG Stranded Silver-Plated Copper, White PTFE
Professional, Fully-Illustrated Wiring Diagram
Share
View full details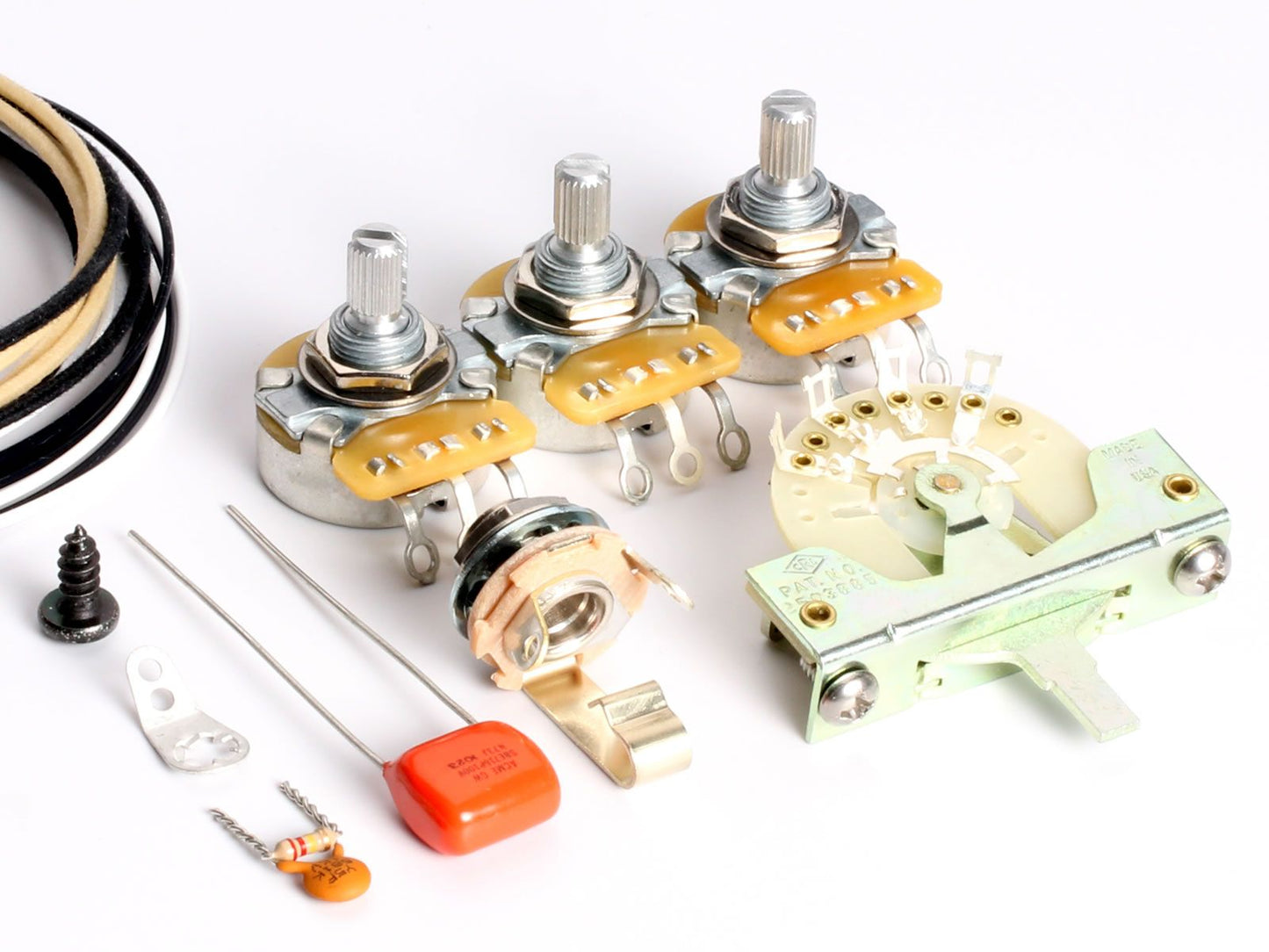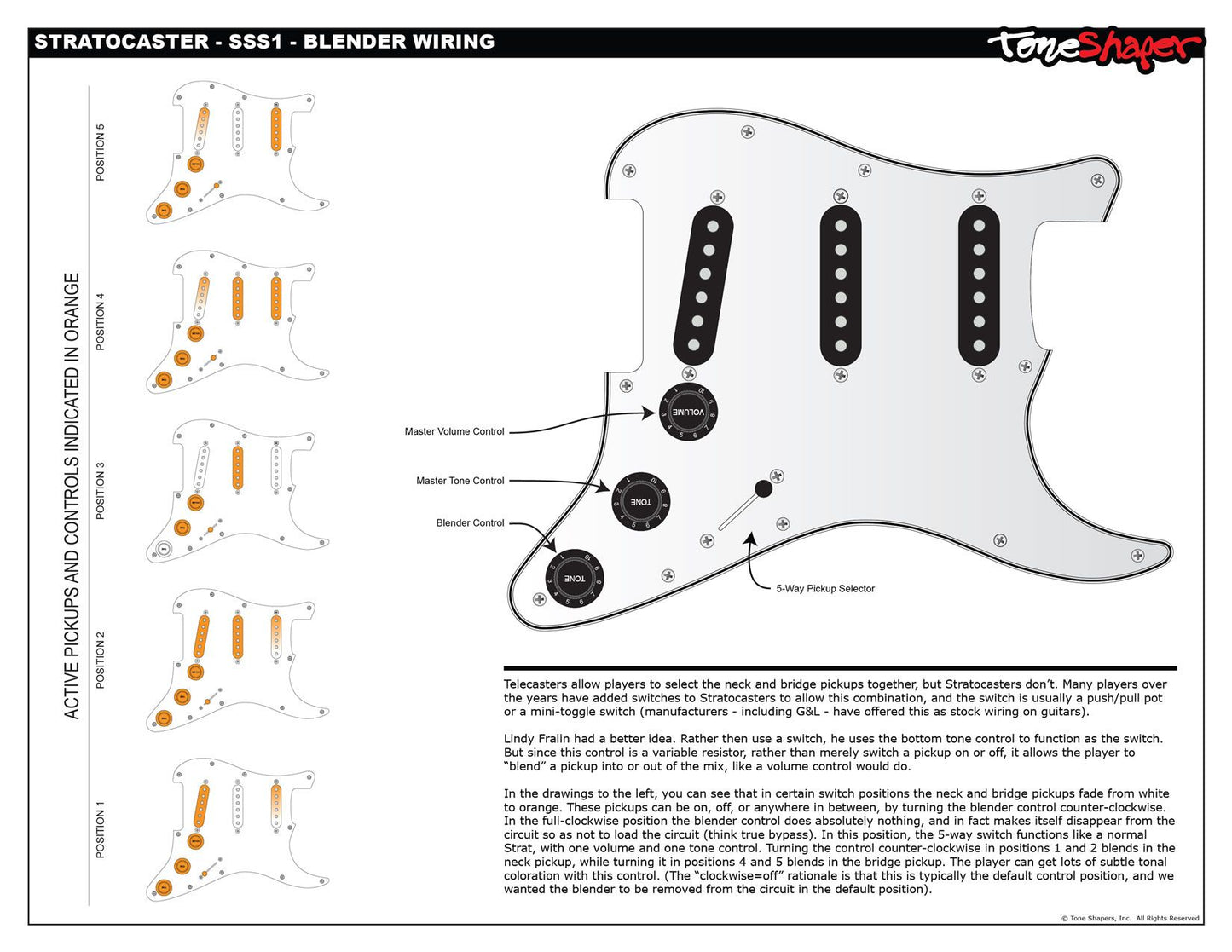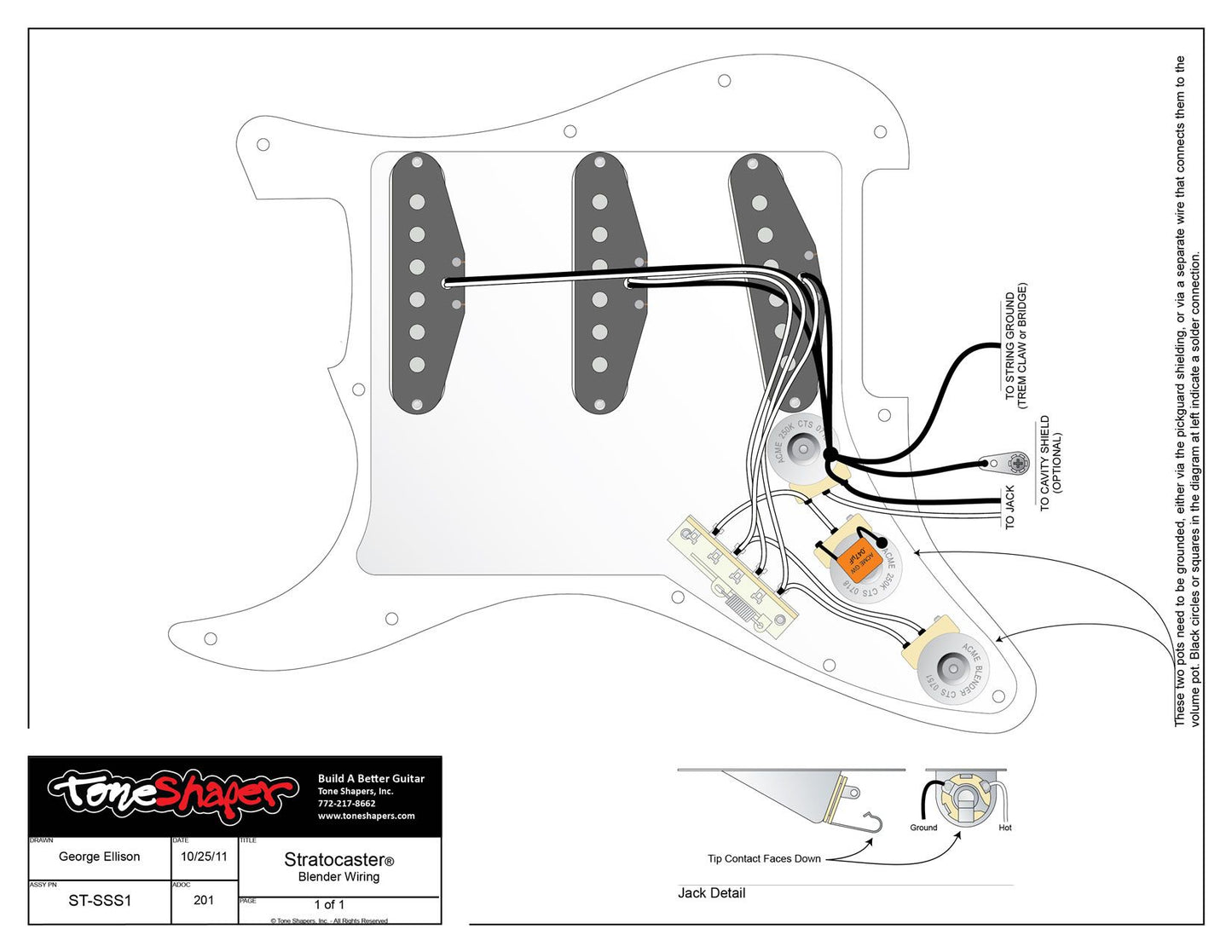 Excellent Product
This came in when it was supposed to, contained everything it should, had great drawings and works as advertised. I love the tonal range you get with the blender setup. My first was an HSS where we split the HB along with the blender. I like it so much I ordered this one for an SSS setup. I sound much better but it didn't help my playing... such is life.
Great Blender wiring kit!
This is a great kit for for transforming your Strat. The switchcraft jack, CTS pots, CRL switch are all high quality. You get more than enough great quality wire. I have only soldered a few things, and this was the first time I re-wired my guitar. This kit came with everything needed to make it easy and fun to mod my guitar. I decided to add the treble bleed too, and glad I did. I didn't use was the orange drop, because I like .022 with my pickups. I also went with a Half Blender mod, but really love blending the Neck with my Bridge. Thanks for the great kit Toneshapers!
Great investment!
These parts are top notch and worth the investment. The quality is apparent and everything you need is included. Not only is it packed well but it comes with a large, clear diagram for wiring in your new parts. Arrived fast and was packed very professionally. Will be a repeat customer every chance I get. I have a feeling I'll upgrade my entire arsenal through here. What did I create? A strat SSS w Master vol, Blender and a kill switch. All sorts of fun.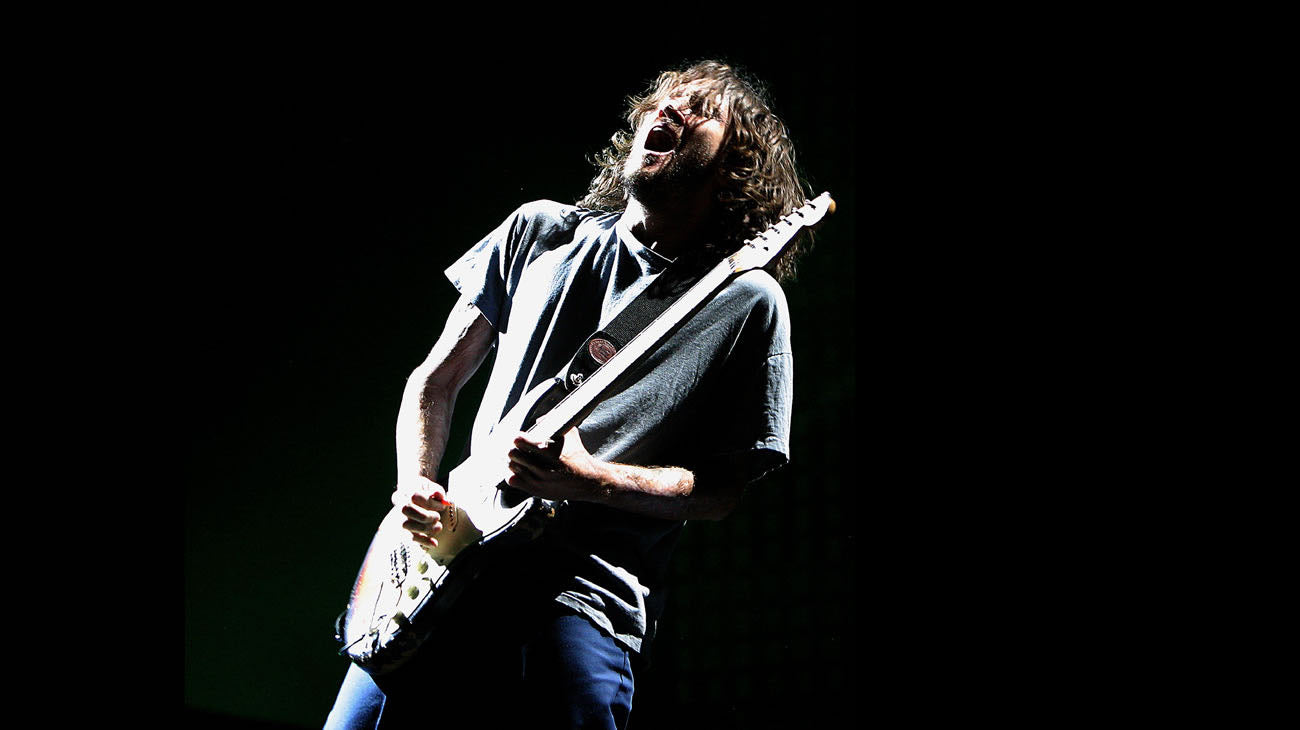 maestro
these are the players who inspire us