Regular price
Sale price
$36.99 USD
Unit price
per
Sale
Sold out
Modern Wiring
This wiring is called "modern" because Fender began using it in the 1980s, as opposed to the 1950s. The original Stratocaster wiring had a master volume control, a tone control for the neck pickup, and a tone control for the middle pickup. There was no tone control for the bridge pickup, since it was assumed that a player would preset his two rhythm settings (neck and middle pickups), but that the lead setting (bridge pickup) need not be adjustable, but should be wide open for maximum brilliance. Remember that during those early years, Fender never supported a 5-way switch. All Stratocasters from 1954 until 1977 shipped with a 3-way switch.
In later years, Fender made some changes to the wiring to meet player demands. These included attaching the bridge pickup to the bottom tone control, a no-brainer for many players who felt that if any pickup should allow for some treble roll-off, it was the bridge pickup. Also, the capacitor value on the tone control was changed to .022µF, which means that the tone controls provided less extreme tonal shifts than when a heavier cap was used (the earliest Strats came with a .1µF cap, which produced a very substantial tonal shift as the tone controls were adjusted; this value was changed to .05µF (.047µF) in the early 1960s).
This kit
includes everything you need to wire a Stratocaster with modern wiring (refer to the images above for a switching diagram). It includes the finest components, from the same suppliers that the large U.S. guitar companies have used for decades:
(1) Capacitor, .022µF Orange Drop
(1) Jack, Switchcraft 1/4" Mono
(3) Pot, CTS 250k Audio (1/4" Bushing Length)
(1) Screw for Shielding Ground Lug
(1) Shielding Ground Lug
(1) Switch, 5-Way, CRL
(1) Treble Bleed Kit for Single-Coils
3' Wire, 22 AWG Cotton Push Back w/ Tinned Overcoat, Black
3' Wire, 22 AWG Cotton Push Back w/ Tinned Overcoat, White
3' Wire, 22 AWG Stranded Silver-Plated Copper, Black PTFE
3' Wire, 22 AWG Stranded Silver-Plated Copper, White PTFE
Professional, Fully-Illustrated Wiring Diagram
Share
View full details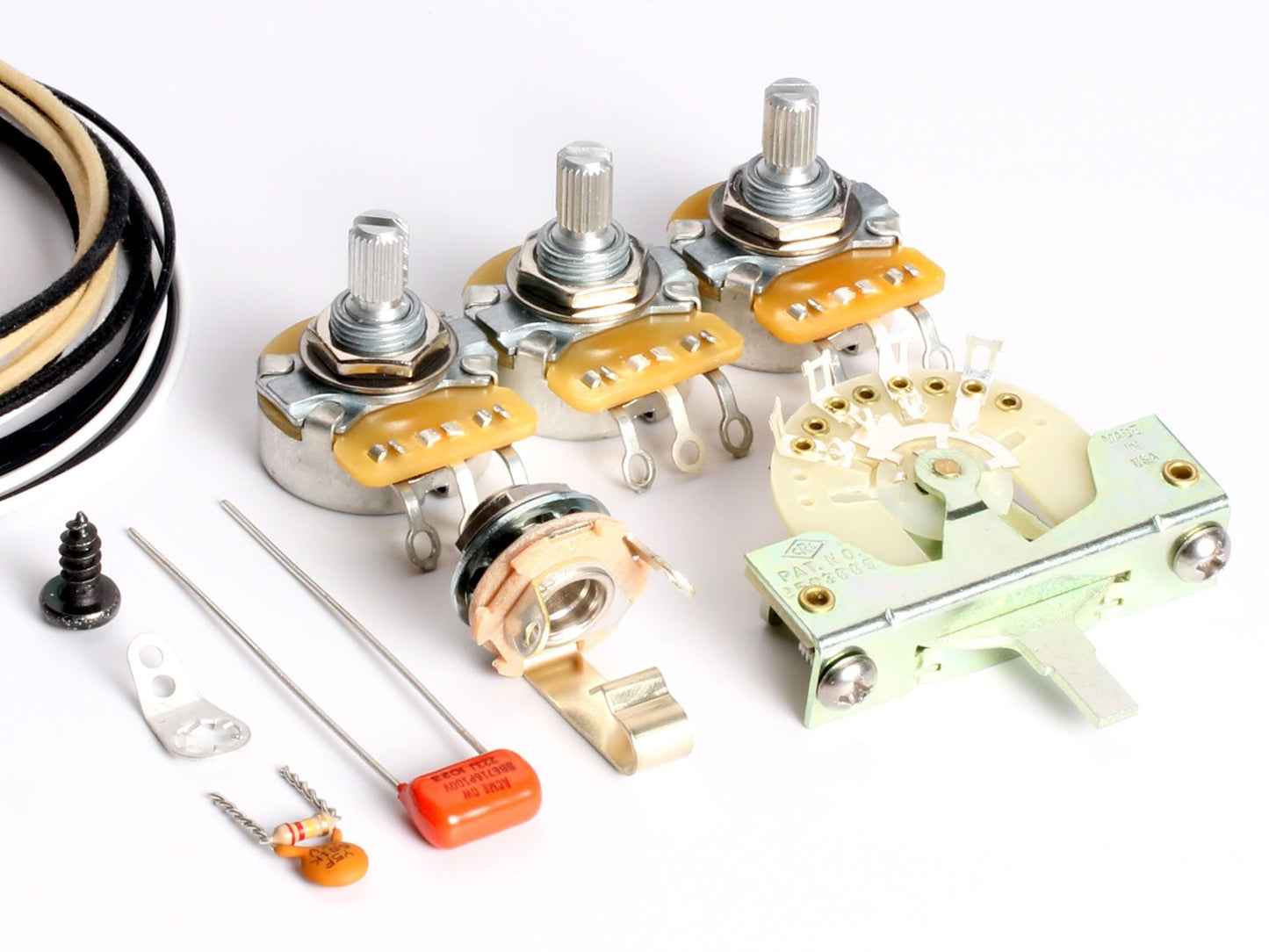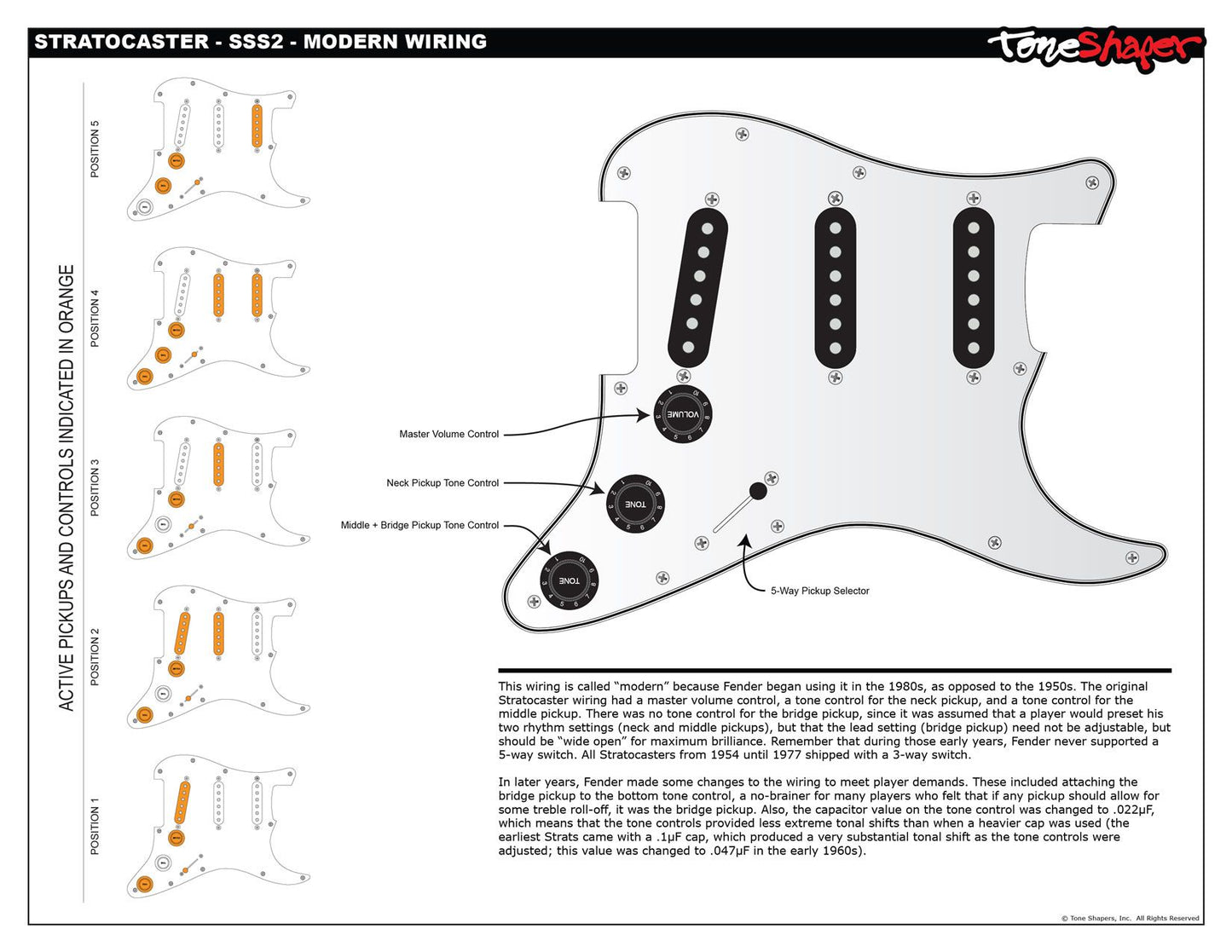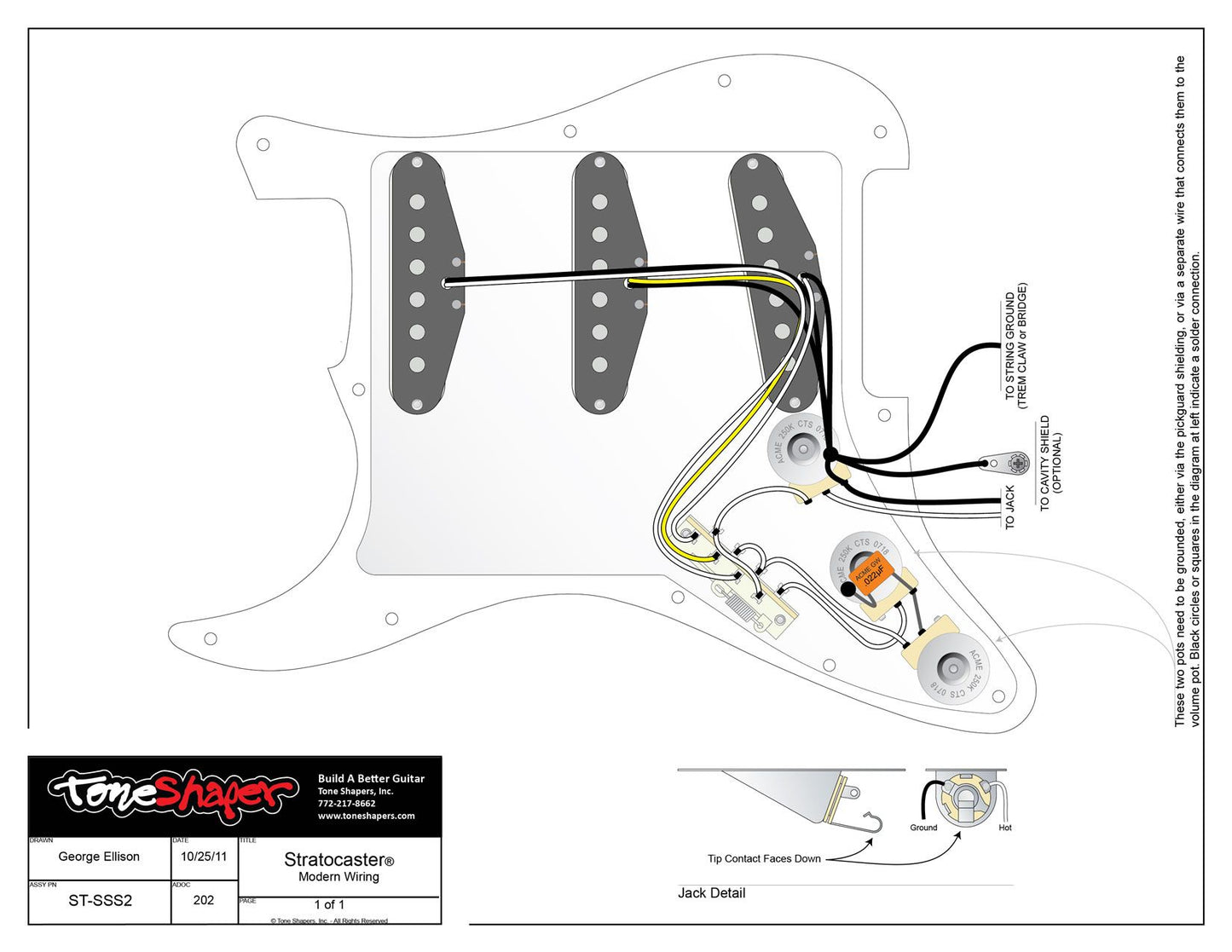 Wow, perfect for me
This is just what I was looking for, a complete kit that even included the treble bleed mod. Was so excited to order and install this. Came with 2 sets of wire - I ended up using the cotton push back since my partscaster is a relic. All parts were top quality. Wiring diagram was clear and concise, very helpful. Enabled me to build up my loaded pickguard in just over an hour. Put it in and everything sounded great, worked right the first time! A+++
No fuss. Good Price.
My go to place for quality guitar stuff. Hare Krishna!
Strat wiring kit
Quality parts as always and delivered in days! Great for new builds and restoration projects
ToneShaper Wiring Kit, Stratocaster, Modern (SSS2)
I bought this kit to upgrade all the electronics of a Squire Strat, with a set of Fender "Tex Mex" pickups I already had. All high-quality parts were a definite upgrade to the stock wiring. "Man," what a difference in sound and tone. I would highly recommend this wiring set for anyone looking to upgrade.
The best and thankful I don't have to eat rotten Stew!
So thankful to have found Toneshaper. High quality parts, conveniently packaged and crystal clear diagrams and instructions. Life-long customer here. I had been using the ugly stepchild named Stew far too long.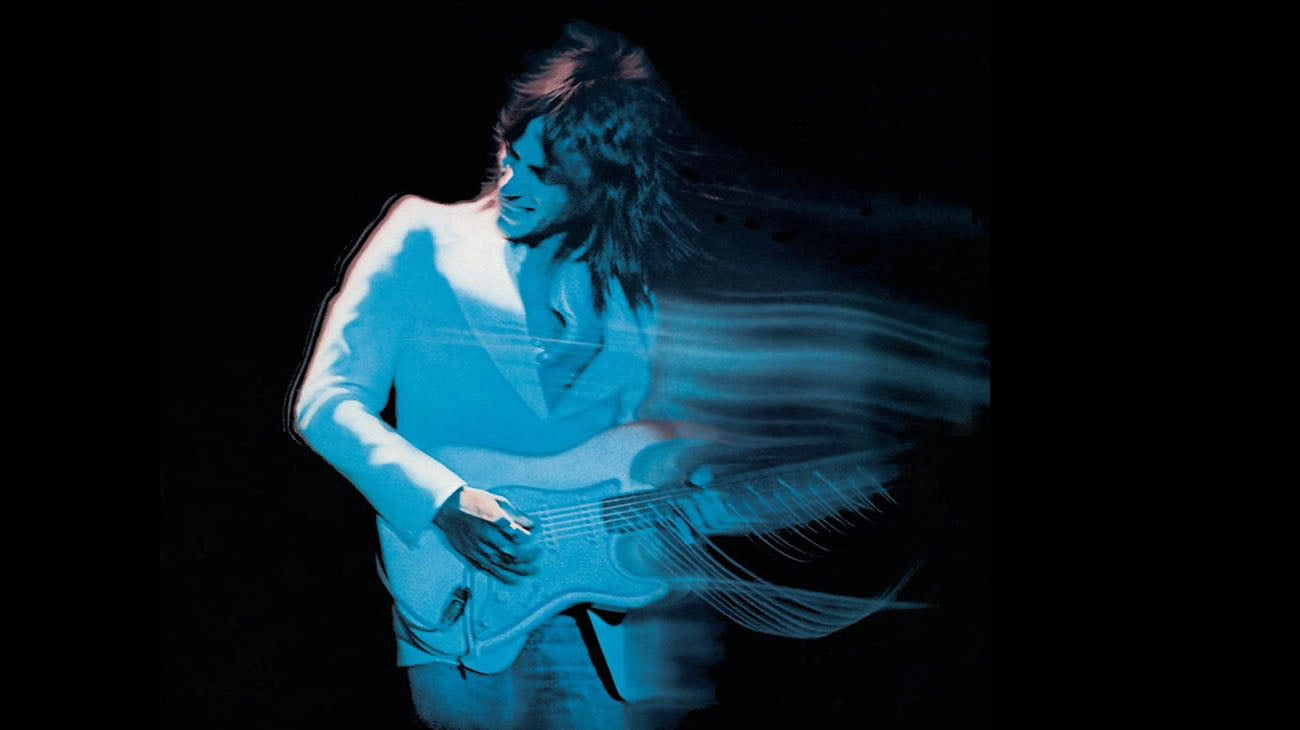 maestro
these are the players who inspire us