Regular price
Sale price
$34.99 USD
Unit price
per
Sale
Sold out
4-Way Wiring
Almost all Teles allow for the neck & bridge pickups to be combined in the middle switch position, and when this is selected, the two pickups are wired together in parallel. This is part of the reason Teles sound the way they do in that middle position, but the two pickups can also be wired in series, and this yields a different tonality, being somewhat warmer and having more output than parallel wiring provides.
Installing a 4-way switch provides this series combination in addition to the standard three switch positions, so it adds tonal flexibility without additional complexity, which is a pretty neat trick. Fender wires 4-way switches differently than we do, which affects where the series position is located:
Fender
Position 4: neck + bridge (series)
Position 3: neck
Position 2: neck + bridge (parallel)
Position 1: bridge
ToneShaper
Position 4: neck
Position 3: neck + bridge (series)
Position 2: neck + bridge (parallel)
Position 1: bridge
Our rationale for wiring per the bottom example is that the two anchor switch positions - all the way forward and all the way back - remain stock, and the combination positions are in the middle. We think this will be more familiar to most Tele players, but in any case, we offer both kits - SS2 (Fender) and SS3 (ToneShaper), and they're identical except for the documentation included with each kit.
This kit
includes everything you need to wire your Telecaster with 4-way wiring using our ToneShaper convention (refer to the images above for a switching diagram). Our kit includes the finest components, from the same suppliers that the large U.S. guitar companies have used for decades:
(1) Capacitor, .047µF Orange Drop
(1) Jack, Switchcraft 1/4" Mono, Long Bushing
(2) Pot, CTS 250k Audio (1/4" Bushing Length)
(1) Screw for Shielding Ground Lug
(1) Shielding Ground Lug
(1) Switch, 4-Way, Oak-Grigsby
(1) Treble Bleed Kit for Single-Coils
2' Wire, 22AWG Cotton Push Back w/ Tinned Overcoat, Black
2' Wire, 22AWG Cotton Push Back w/ Tinned Overcoat, White
2' Wire, 22AWG Stranded Silver-Plated Copper, Black PTFE
2' Wire, 22AWG Stranded Silver-Plated Copper, White PTFE
Professional, Fully-Illustrated Wiring Diagram
Share
View full details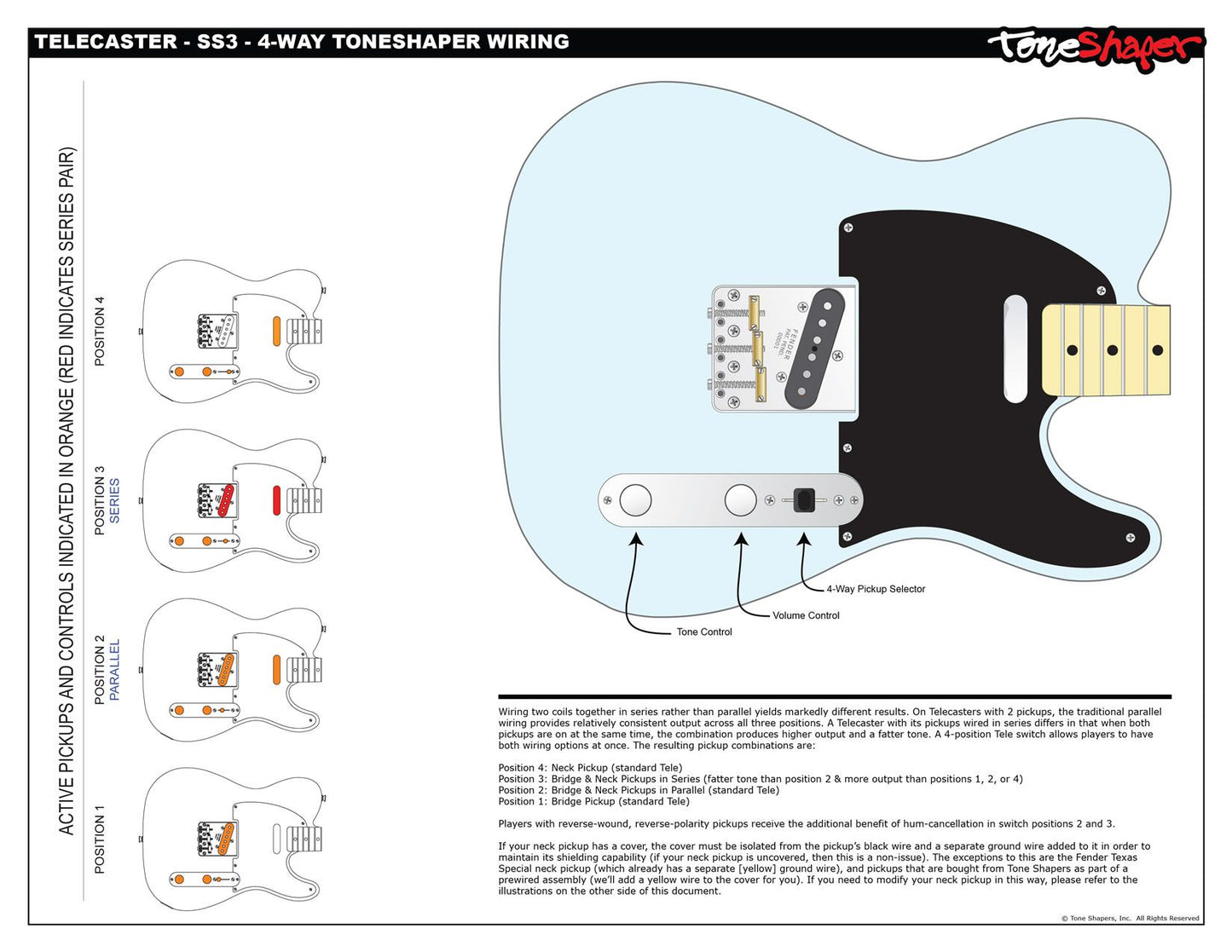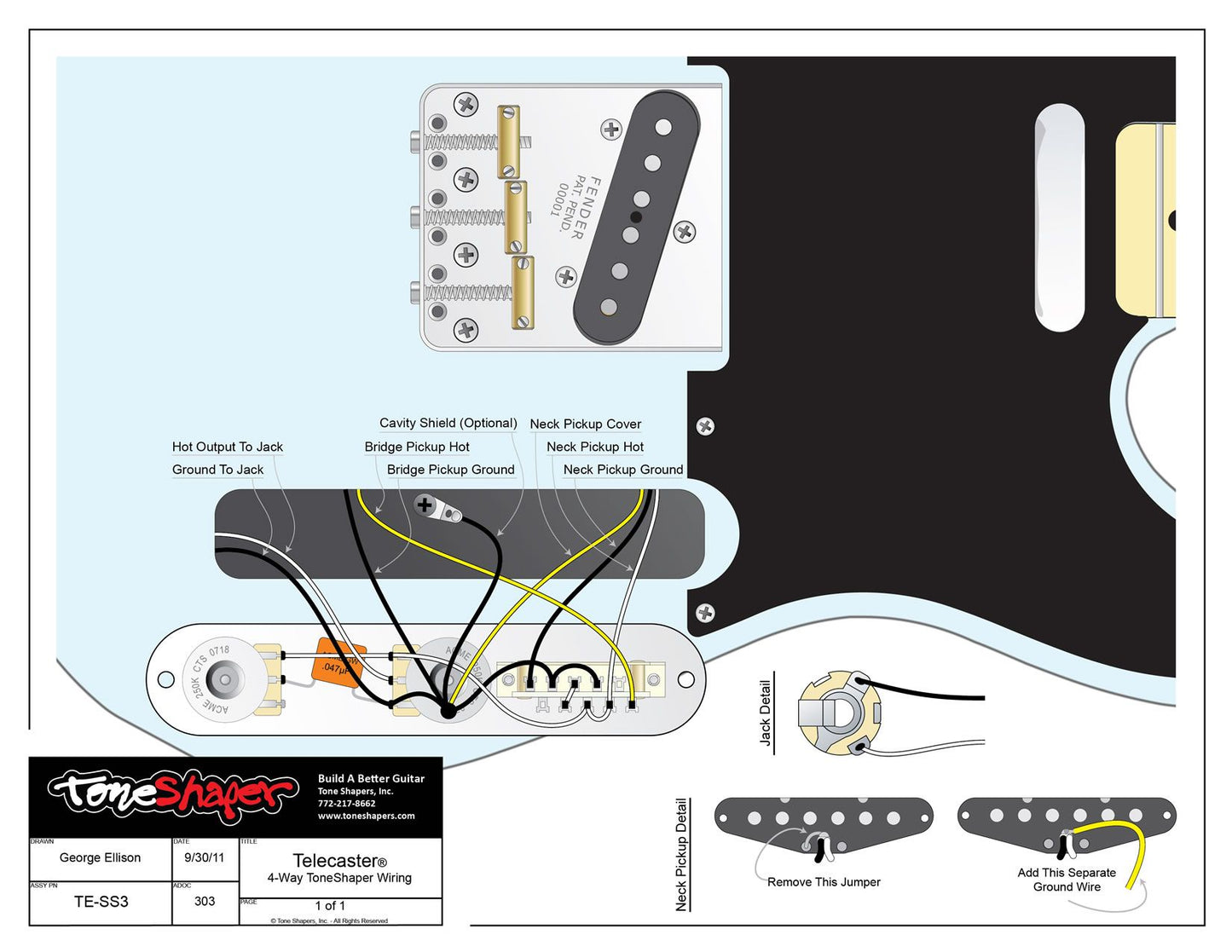 Great Kit
I am new to wiring guitars but not new to wiring. Kit was easy to use. I love the full color diagrams, they are super helpful. My guitar is a squire tele so the standard pots didn't quite fit. So I drilled out the control plate... Which was a terrible idea. Just go ahead and order an American official fender one. Plus they're much thicker and nicer. If I had to do the install again I absolutely would, but I think I would use the "fender" style 4 way switching circuit, as the sudden volume increase of the series circuit can be a little unexpected. But that's just personal preference. Seriously great Kit. Second kit I've ordered and when I build my next guitar I'll be ordering another kit from tone shapers again!
Excellent
Excellent kit you guys. Everything is great quality and the generous amount of wire is appreciated. Love the clarity of the instruction sheet as well. If I can't wire things up correctly then I've got issues!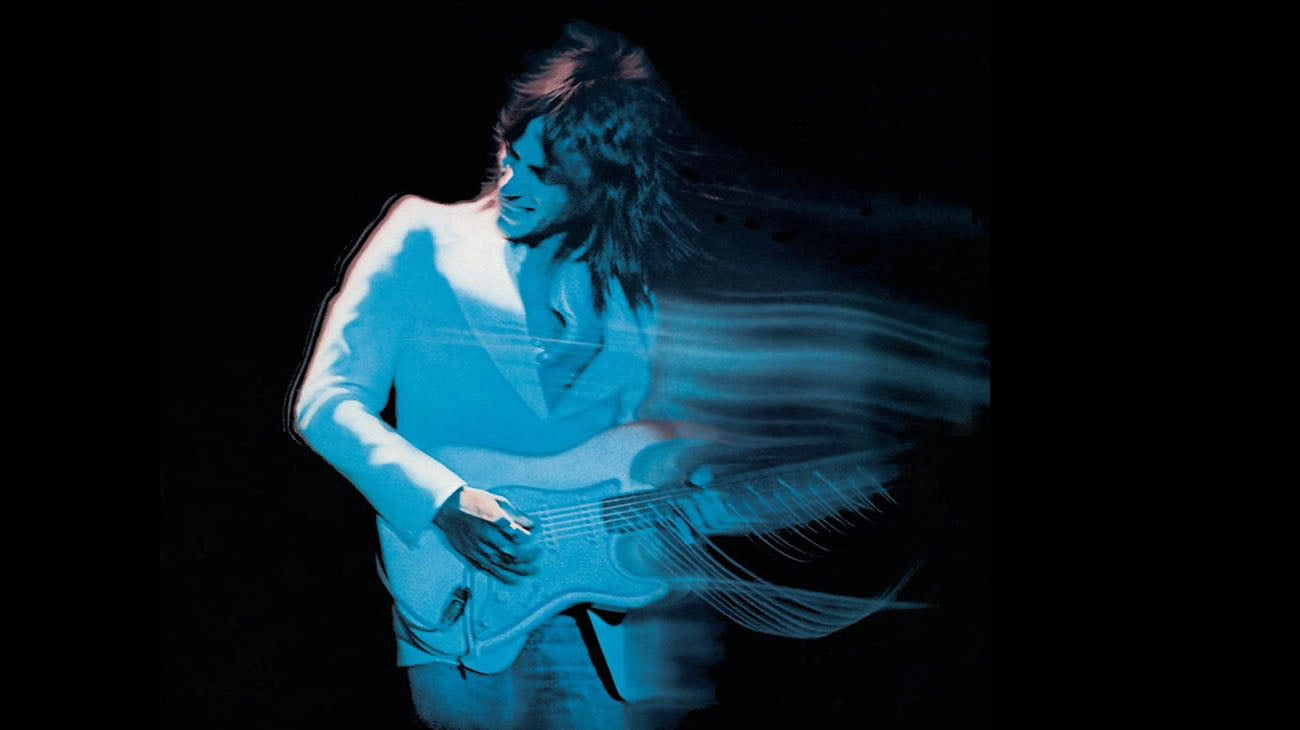 maestro
these are the players who inspire us