Regular price
Sale price
$52.99 USD
Unit price
per
Sale
Sold out
This kit includes everything you need to wire a Gibson ES-335 or similar guitar. It includes the finest components, from the same suppliers that Gibson has used for years:
(2) Capacitor, .022µF Orange Drop
(1) Jack, Switchcraft 1/4" Mono, Long Bushing
(4) Pot, CTS 500k Audio, Low Torque (1/2" Bushing Length)
(1) Switch, Switchcraft 3-Way Toggle, Short Straight
(2) Treble Bleed Kit for Humbuckers
2' Wire, 22AWG Cotton Push Back w/ Tinned Overcoat, Black
2' Wire, 22AWG Cotton Push Back w/ Tinned Overcoat, White
2' Wire, 22AWG Single Conductor Braided
2' Wire, 22AWG Stranded Silver-Plated Copper, Black PTFE
2' Wire, 22AWG Stranded Silver-Plated Copper, White PTFE
(1) Professional, Fully-Illustrated Wiring Diagram
Please note: knobs & switch tip are not included. There are just too many options. We sell 12 varieties of Gibson-style knobs sets, each includes four knobs plus a Switchcraft switch tip. The knobs will fit these 24-tooth pots correctly, and the switch tip is the right part for the Switchcraft switch included in this kit. Gibson knobs & switch tips fit our parts properly, but imported knobs and switch tips don't. So if you have knobs/tip that came off an Epiphone or other imported guitar (Tokai, Burny, PRS CE, etc), then you're going to need knobs.
Share
View full details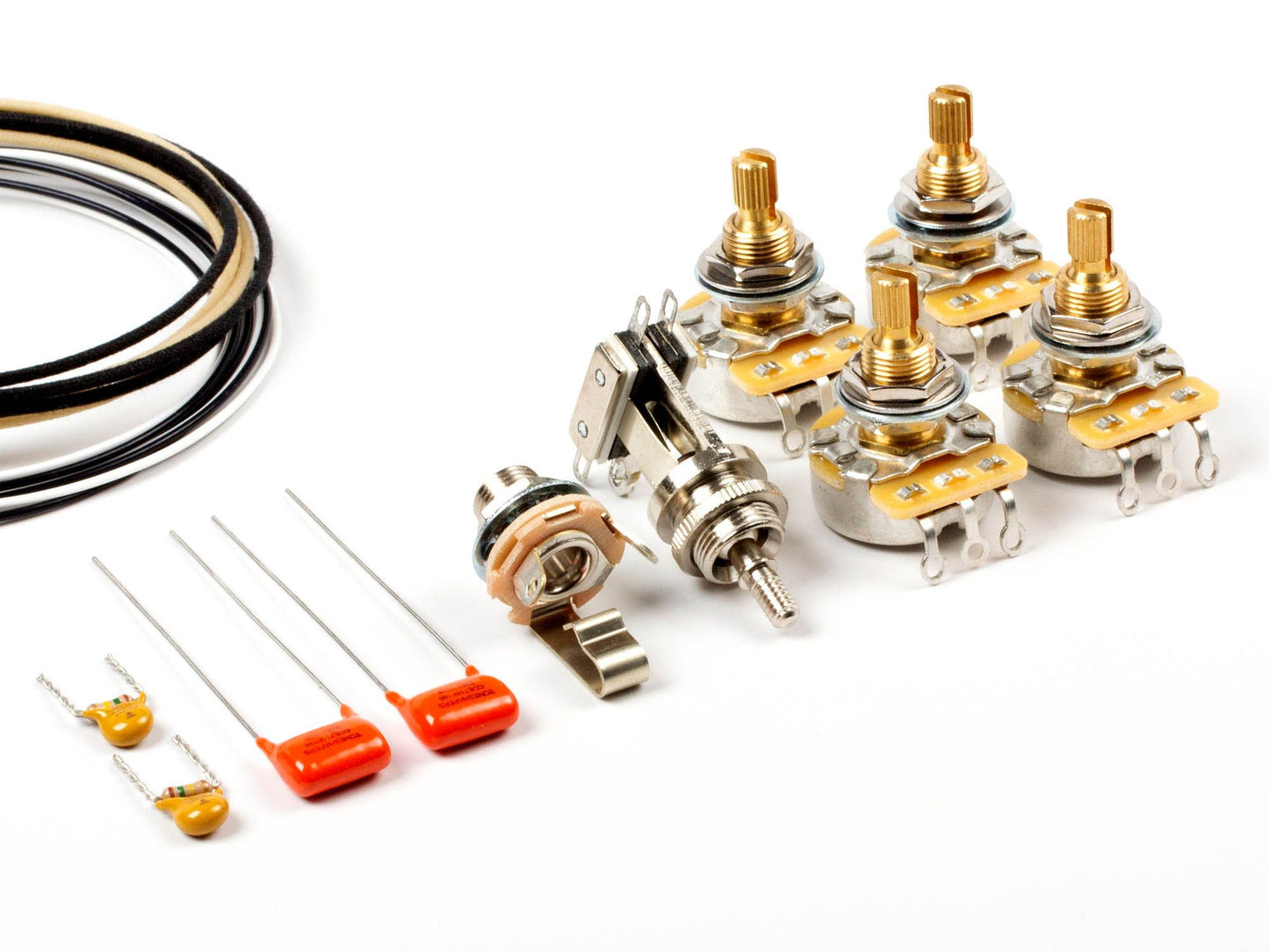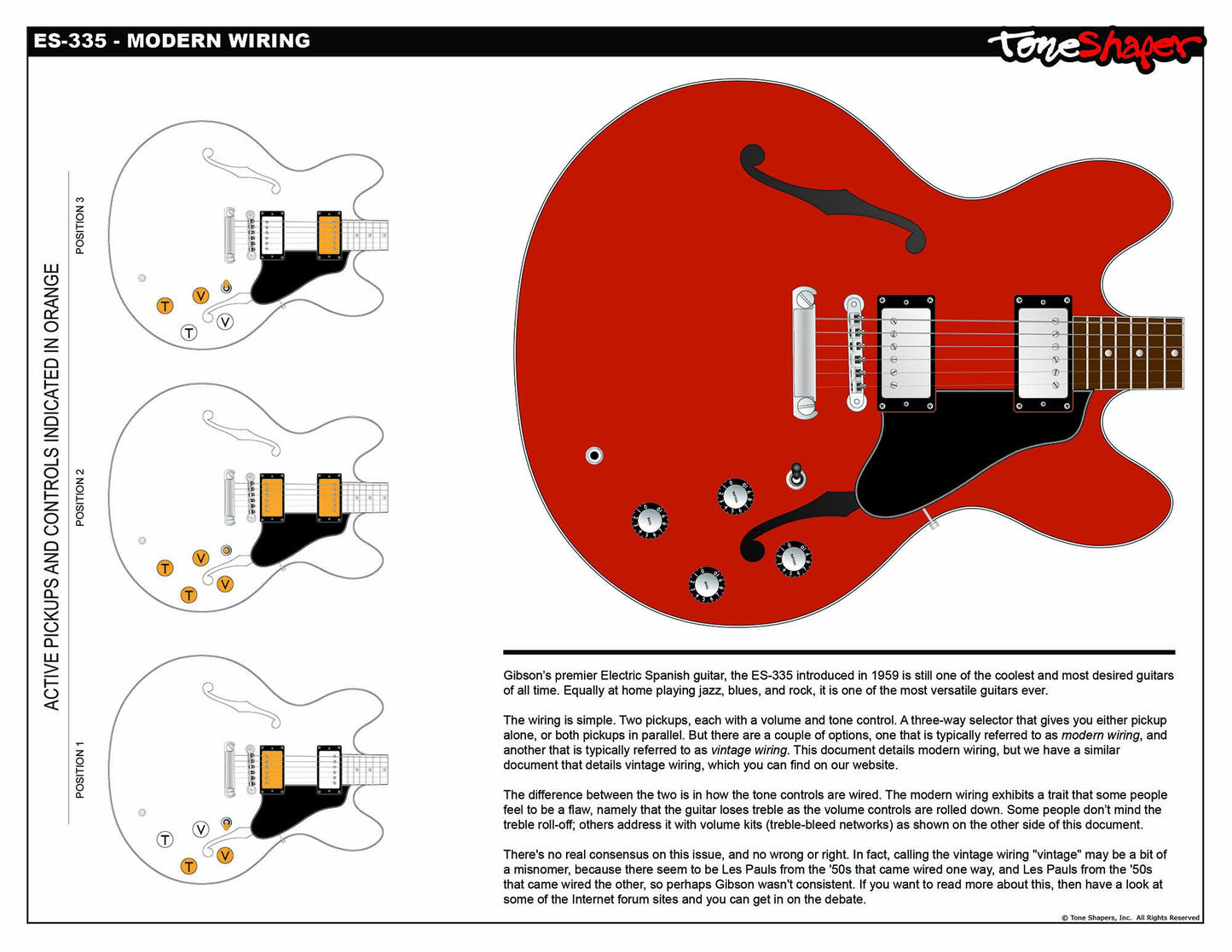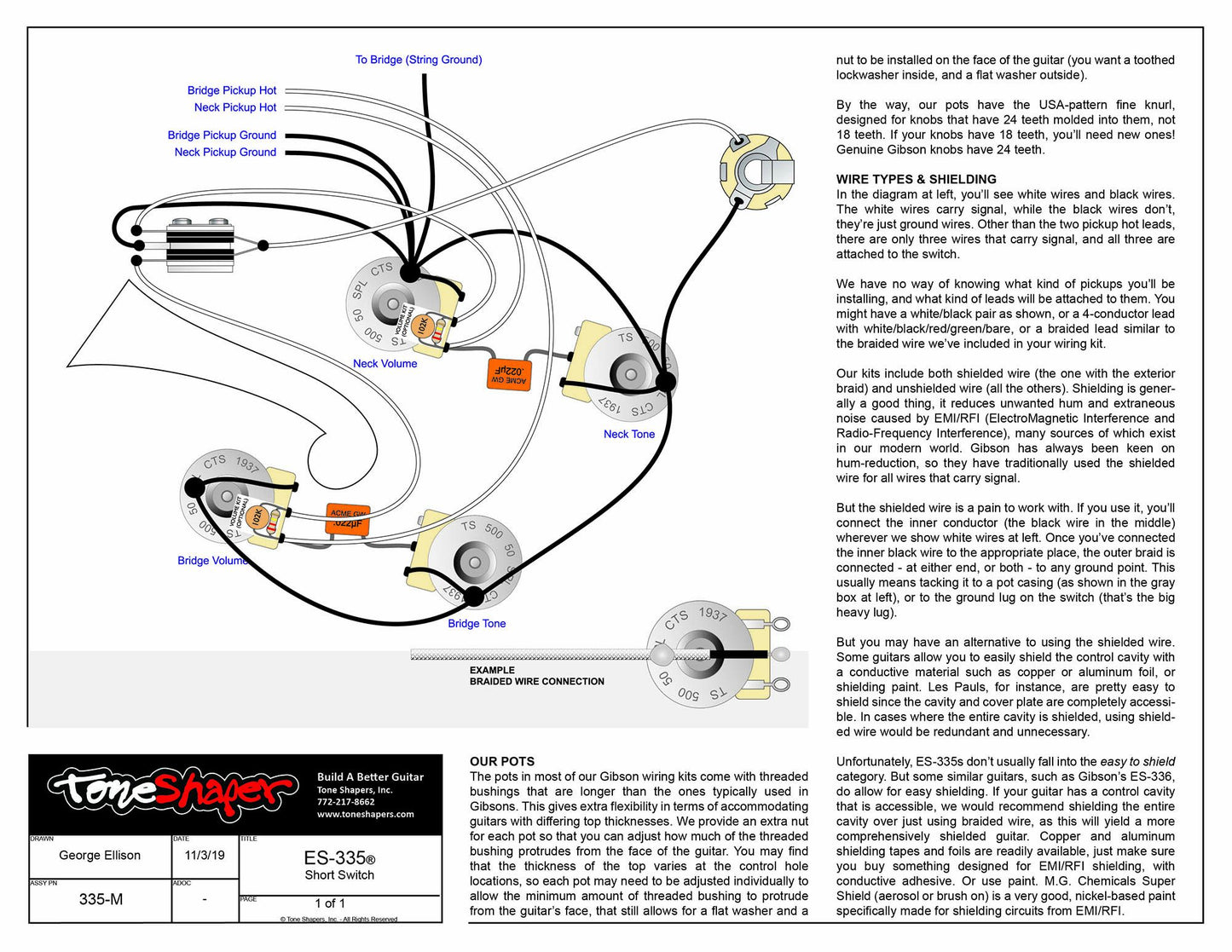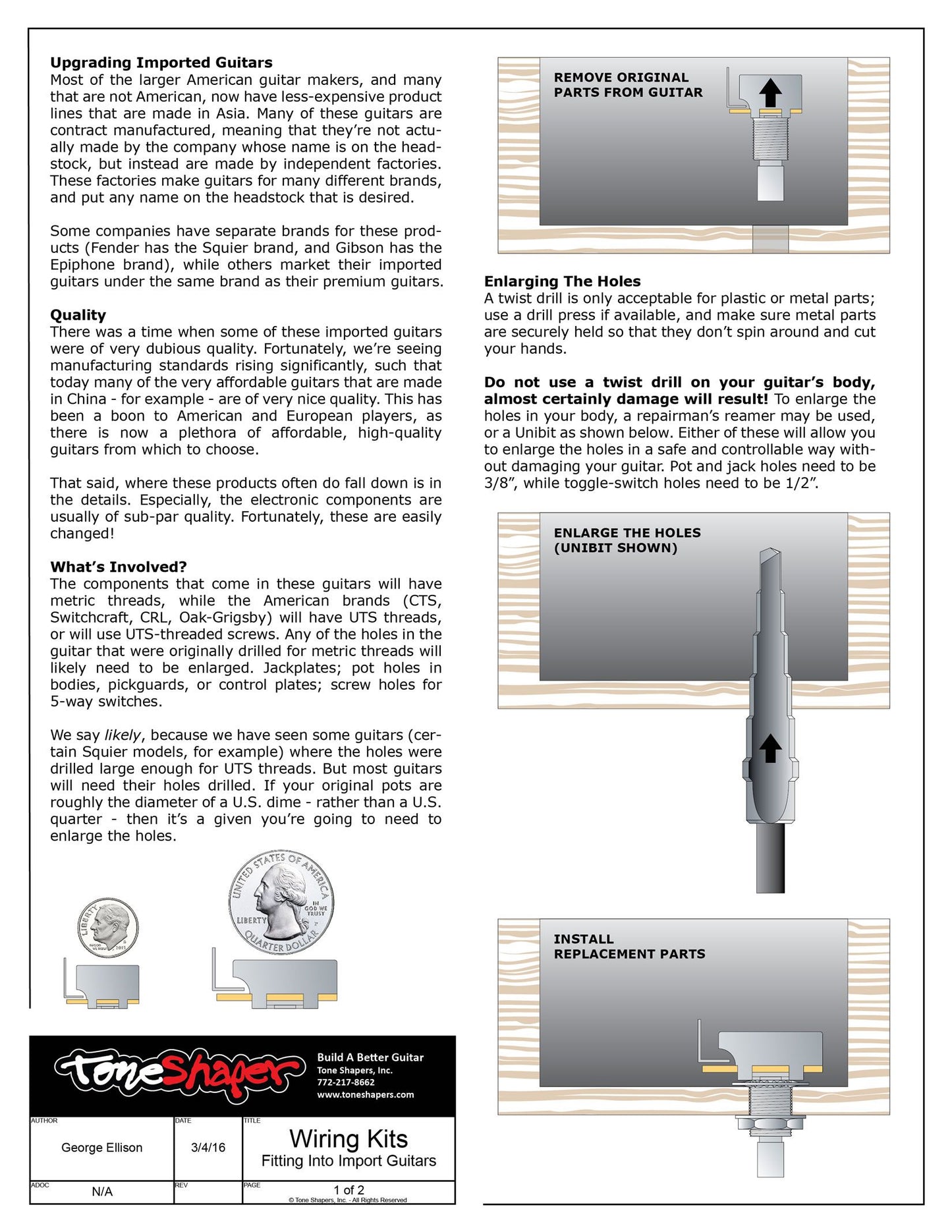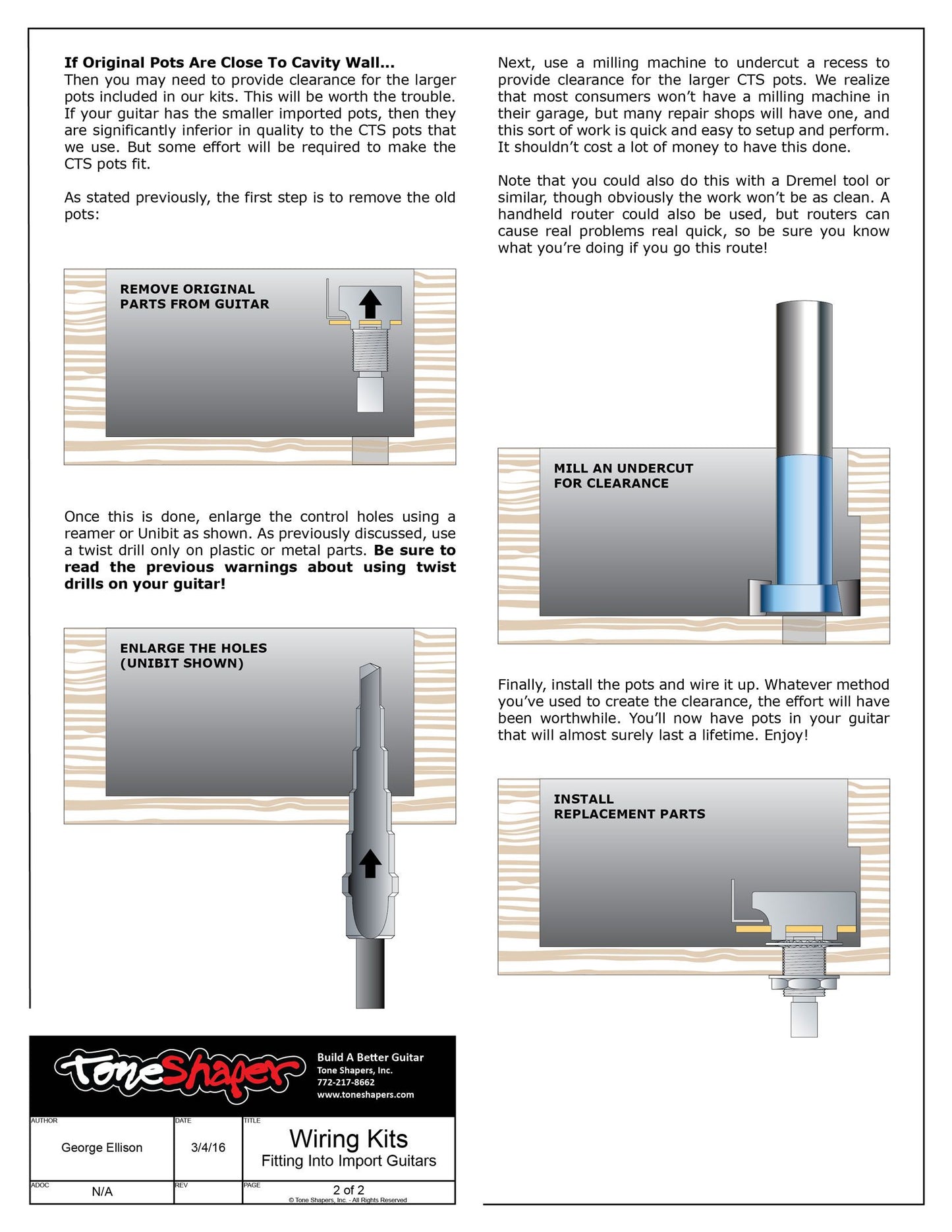 Definitely worth it
Exactly what I ordered with quick delivery. Wish the had the coil split version with wiring diagram. You
Just what I needed!
Doing my first ES-335 style harness. Wanted to try my hand at it vs buying a pre-made one. Now just need to get it all back inside! Great parts though, fast shipment, nice schematic and directions.
great! great! great!
great parts at a great price! and great communication as well. thanks!!!
Epiphone 335
As far as quality of this kit it's top of the line the issue I had with it is parts were being installed in a epiphone 335 the CTS pots are much to large to pass through the F hole on the epiphone it's a tight fit anyway but will not fit through the epiphone very disappointing I did use the rest of the kit and some lesser quality cts pots I had
Thanks for the great review Richard! Unfortunately, 335-style guitars are all over the map in terms of access to the control cavity. Many of these cavities are accessed from a hole under the bridge pickup - our experience is that most guitars of this style have some sort of access here, the controls are generally not expected to be inserted through the F-holes. Removing the bridge pickup will reveal any access the manufacturer has created.
But the access here varies quite a bit. We've seen guitars where the hole into the cavity is the same size as the bridge pickup itself, making it very easy to slip an entire control harness into the cavity. But we've also see guitars (an Epiphone Sheraton II comes to mind) where the access hole - while provided - was too small to admit even a single CTS pot, and it wasn't an easy hole to enlarge. In the case of the Sheraton the hole was slightly less than an inch square, so it didn't need to be enlarged that much. But it extended at a right angle from the bridge pickup cavity, towards the treble bout of the guitar, and it was nearly impossible to get at it with anything other than files or a rasp.
So every guitar will vary. Have a look under the bridge pickup, in most cases we think you'll find that you have some access to the control cavity, whether clear access or limited access. Either case would provide better access than the F-holes.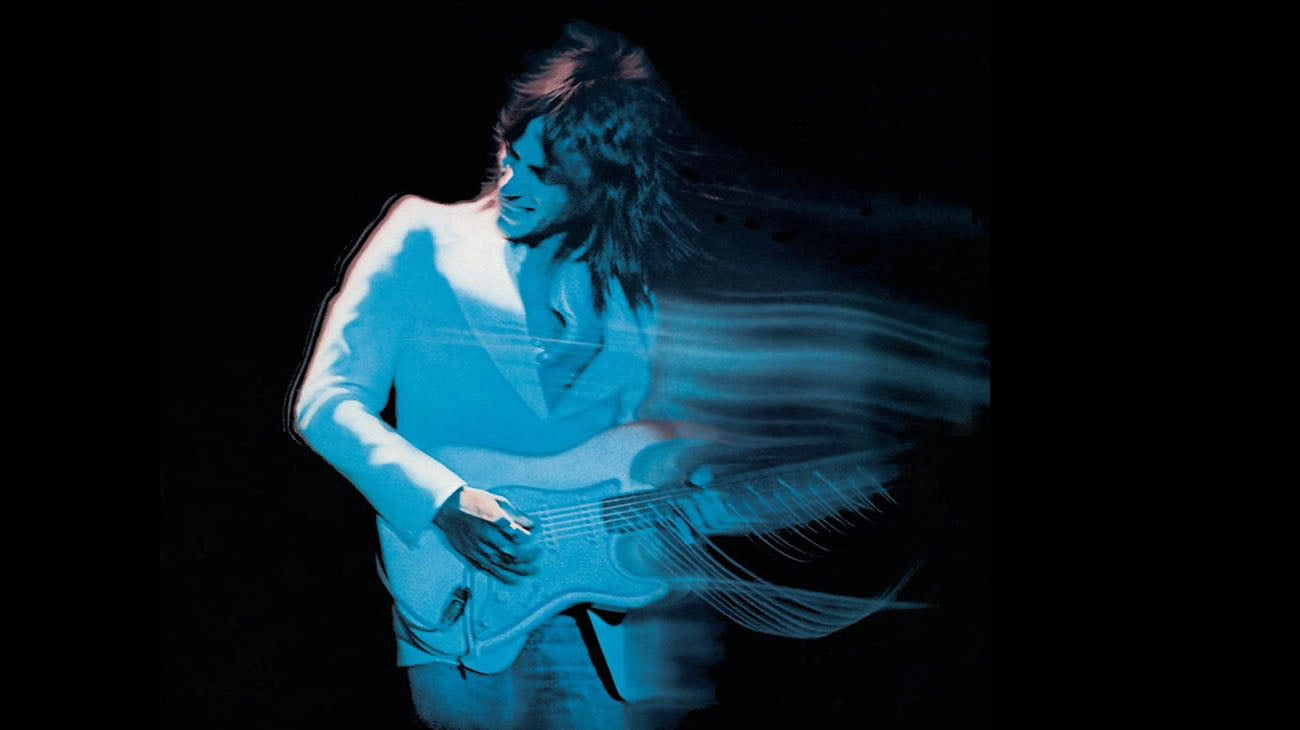 maestro
these are the players who inspire us